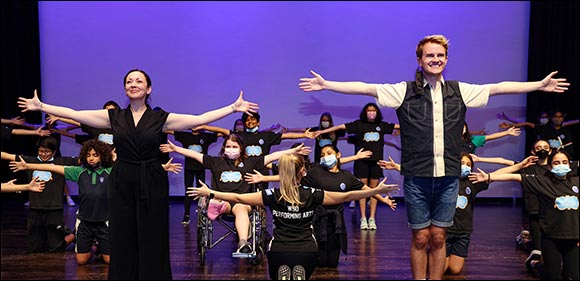 • West End stars hosted acting and vocal workshops for BTEC and primary students
• WSO is the GEMS Centre of Excellence for Performance and Theatre Technology
• Week-long residency is part of collaboration between WSO and Arts International
DUBAI, United Arab Emirates: West End stage actors Sarah Earnshaw, best known for playing Glinda in Wicked, and Luke Bayer, who starred as Jamie in Everyone's Talking about Jamie, recently held a week-long residency at GEMS Wellington Academy – Silicon Oasis (WSO).
Joining the school's Performing Arts Team, Sarah and Luke led workshops in vocal training, held question and answer sessions about the theatre and entertainment industry for BTEC Performing Arts students, and worked closely throughout the week with Year 5 and 6 primary students, who are part of the Junior Theatre Company, to enhance and refine their production of Alice In Wonderland.
WSO is the GEMS Centre of Excellence for Performing Arts and Theatre Technology, as well as the Arts International flagship school in the Middle East.
Jodie Quirke, Academy Acting and Production Arts Programme Manager at GEMS Wellington Academy – Silicon Oasis, said: "WSO were delighted to welcome two West End stars to work with our cast of Alice in Wonderland and our BTEC Performing Arts students. These opportunities to learn from seasoned professionals help our budding stars prepare for future careers in the arts. Sarah Earnshaw and Luke Bayer were impressed by the dedication of the students and the industry-standard facilities at GEMS Wellington Academy – Silicon Oasis. We thank Arts International for an incredible residency, and Sarah and Luke for sharing their expertise, passion and experiences with us all."