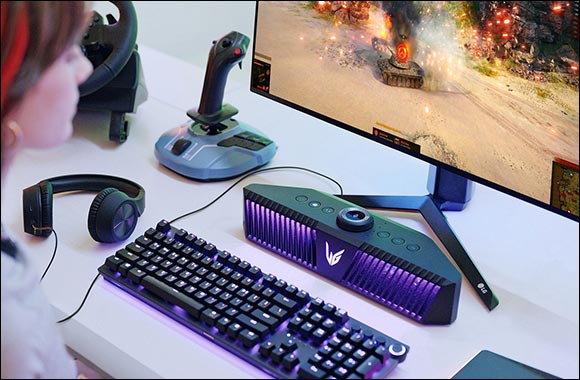 Dubai, December 12, 2021 — As the festive season fast approaches, consumers are searching for the perfect presents to gift their friends and loved ones. With portable gadgets across health and wellness, gaming and audio, LG's holiday gift guide provides an array of choice for every personality.
PuriCare Wearable Air Purifier (Second Generation)
The new LG PuriCare Wearable Air Purifier is equipped with two H13 HEPA filters, the same as those found in premium air purifiers for the home, DUAL Fans and an automatic airflow control system to ensure the air the user breathes is as clean as possible.
The device is designed to alleviate common pain points of mask wearing, such as feeling claustrophobic or finding one's glasses fogging up. LG's air purification solution also employs VoiceON technology, using a microphone and a speaker built to automatically recognize when the user is talking, projecting their voice with clarity.
The LG PuriCare Wearable Air Purifier comes in two color options, Creamy White and Ocean Black, and is available from 799 AED across major retail stores in the UAE.
LG UltraGear Gaming Speaker (Model GP9)
Following the success of its UltraGear Monitor lineup, LG recently launched its UltraGear Gaming Speaker (Model GP9) in the UAE. As the company's first UltraGear sound solution, LG incorporated insights from gamers throughout the development process. The result is a superb sounding product that frees users from headphones and empowers them to play at their best.
The new speaker boasts LG's proprietary 3D Gaming Sound technology, which incorporates a specially-designed HRTF (head-related transfer function) algorithm to tailor a game's audio according to genre. FPS Mode allows first-person shooter game fans to hear the smallest of details, while RTS Mode ramps up the realism with genuine spatial sound that can immerse players in their favorite real-time strategy (RTS), racing and all other games like never before.
The LG UltraGear Gaming Speaker (Model GP9) is available from 2099 AED across major retail stores in the UAE.
LG XBOOM Go PL5 Portable Bluetooth Speaker
The LG XBOOM Go PL5 is a portable Bluetooth speaker which sports a sleek, rounded design with a practical rubberized finish. It also leverages Meridian technology delivers premium audio quality on-the-go, so that users can hear deep bass and rich tones from anywhere.
By simply pressing a button, Sound Boost mode amplifies sound power and widens the audio field to create atmosphere. LG's Dual Action Bass technology utilizes passive radiators to produce bold sound, and as the woofers vibrate, ring-shaped lights pulsate to the same beat, create a colorful movement which can also be customized by the LG XBOOM app. The LG XBOOM Go PL5 has up to 18 hours of battery life and is also IPX5 rated, offering protection against low-pressure water jet spray from any direction.
The LG XBOOM Go PL5 Portable Bluetooth Speaker is available from 399 AED across major retail stores in the UAE.
LG TONE Free FN7 True Wireless Bluetooth Earbuds
LG's TONE Free FN7 Earbuds feature Active Noise Cancellation (ANC) to reduce background and ambient sounds, enabling users to enjoy their audio, supported by Meridian technology, to its full potential. The Spiral Ear Gel Design on the earbuds has been engineered to further complement and maximize ANC – while also being practical, encased in non-toxic, hypoallergenic, medical-grade silicone.
The FN7s come with a compact charging case which when powered up, deploys LG's innovative UVnano technology to clean the earbuds. Using ultraviolet light, the case helps to keep the wearer's ears cleaner by eliminating 99.9 percent of E. coli and S. aureus bacteria on the earbuds' inner mesh. As well as easy maintenance, LED lighting on the top of the case also makes it easy to monitor charging level and UVnano status.
The LG TONE Free FN7 Wireless Bluetooth Earbuds are available from 445 AED across major retail stores in the UAE.