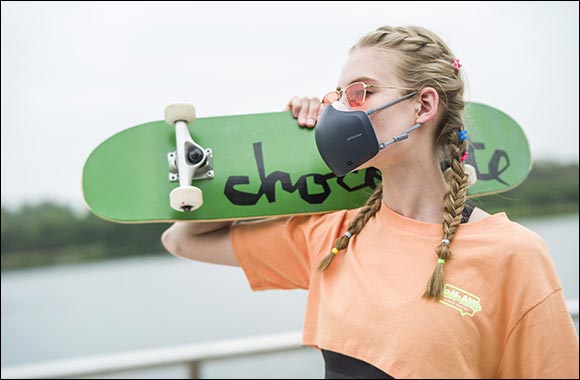 Backed by Years of Research the New LG PuriCare Wearable Air Purifier offers Smart Breathing Comfort with Lighter Design

22, November 2021: Air quality has been a common concern in recent years as consumers are educated on the effects it can have on their personal wellbeing and the environment. Clean air is essential to a person's health and well-being and both indoor and outdoor air can cause exposure to different pollutants.
Cooking, cleaning supplies, heating and pets can all affect the air breathed indoors while nearby construction, changing of the seasons and passing cars can impact outdoor air comfort. With this in mind, LG Electronics (LG) is investing even more in research and development to increase its technological capabilities and better understand the science behind air quality.
Remaining at the forefront of innovation, LG's next-generation technologies are being leveraged across the company's air care products including air purifiers, air conditioners and dehumidifiers. Fast becoming a must-have item in the home and office, air purifiers can rid the indoor environment of fine dust particles and other airborne matter that can be detrimental to one's health. Capturing harmful particles and gases, LG's home PuriCare line delivers clean, fresh air to every part of the home.
For a more personal and portable form of air purification, consumers can look to the newly upgraded LG PuriCare Wearable Air Purifier. The latest model offers an enhanced all-around performance along with a convenient voice amplification feature and a more comfortable, lightweight design for everyday use.
The upgraded version of the wearable helps users breathe in fresh, clean air without discomfort. The wearable seals the face for better protection, unlike most masks with air leakage around the nose and the chin, the smart, ergonomic design was adopted for the shape of any face. It also incorporates two H13 HEPA filters, the same as those found in LG's air purifiers for the home, to ensure the air the user breathes is as clean as healthy as possible.1
Consumers frustrated by the talking limitations of conventional masks will be pleased with the VoiceOn feature to reduce muffling. A built-in microphone and speaker projects the voice out of the wearable, so each word can be heard clearly. Users can also track their breathing experience and product maintenance with Bluetooth connectivity. The function offers information on product usage history, filter management, battery information, breathing tracking by activity and location.
Availability and Pricing
The upgraded PuriCare Wearable offers a sleek and functional look and comes in two colors: creamy white and ocean black. Retailing for 799 AED, the new PuriCare Wearable is available for purchase.