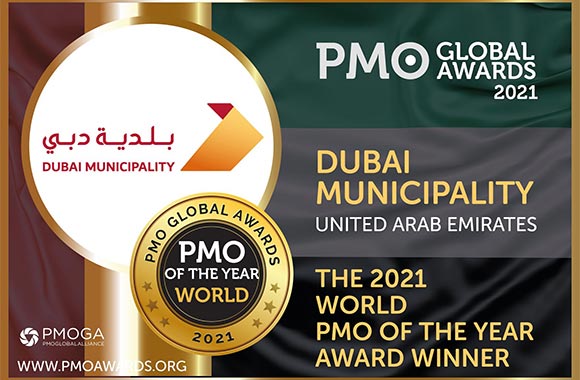 Dubai - 13, November 2021: Dubai Municipality has cemented the UAE's global supremacy by winning the title of the Best Project Management Entity in the World in 2021 at the PMO Global Awards.
Dawoud Al Hajri, Director General of Dubai Municipality said: "Receiving the award for the best project management entity for the year 2021 at the world level is a honorable achievement that comes under the directives of our wise government leadership and the vision of His Highness Sheikh Mohammed bin Rashid Al Maktoum, Vice President and Prime Minister of the UAE and Ruler of Dubai. Winning the award is a confirmation and culmination of a series of successes and achievements that the Government of Dubai is constantly accomplishing to occupy a leading position in global competitiveness indicators in all fields."
"Dubai Municipality has a pivotal role in achieving business excellence and supporting the implementation of the government's strategic plans and priorities, which requires the existence of a comprehensive, renewable, effective, and consistent institutional system and methodology for project management. Programs in various business sectors are characterized by flexibility, institutional agility and the ability to adapt and keep pace with local and global changes through citizen cadres and project management experts who have the skill and leadership to achieve the model of excellence in business," said Al Hajri.
Heba Al Shehhi, Director of the Project Management Office, said: "The Municipality's winning of the award was announced during the annual awards ceremony that was held in Lithuania on November 11, 2021, in which project management professionals from all over the world participated. Earlier, Dubai Municipality was chosen as the best entity in the Asia-Pacific region in September 2021."
She stated that the Project Management Office was established under the directives of the Director General to support the successful implementation of projects with the aim of achieving the strategic objectives of Dubai Municipality and promoting long-term sustainable development.
"We, in the Project Management Office, always aspire to ensure a clear vision for all projects and programs, and to be the main reference provider of opinion and advice to senior leadership in order to take proactive decisions, as well as to build our capabilities on a permanent basis and raise the level of maturity of project and program management practices. Hence, we have shifted our focus from implementation based on methodology to focusing on results that achieve benefits and added value in the diverse and distinct sectors of Dubai Municipality. We also follow pioneering methodologies and frameworks that ensure institutional agility, as Dubai Municipality has achieved outstanding results in the implementation of infrastructure projects and business sectors as part of its vision of 'Advancing towards new horizons," Al Shehhi said.