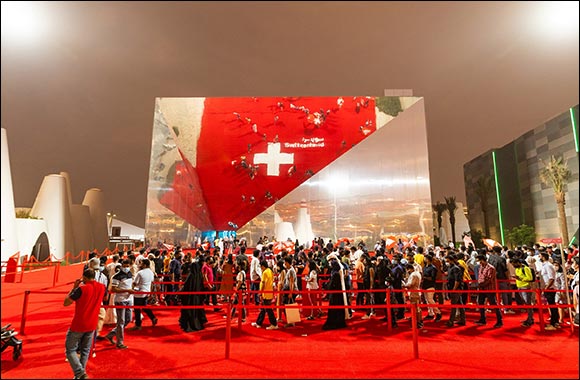 In line with Expo 2020 Dubai Thematic Weeks and in the presence of Prof. Claude Nicollier, former and the first Swiss astronaut
Dubai, October 19, 2021: The Swiss Pavilion is celebrating the Space Week at Expo 2020 Dubai through a series of talks, workshops and exhibitions taking place on the 20th and 21st October 2021. Prof. Claude Nicollier, former and the first Swiss Astronaut will be present along with other international Space experts from the UAE, Switzerland, Japan, India and the US to discuss astronomy, lessons from Space, radio Astronomy Research & Development, among others.
The Space week is organized in collaboration with Swissnex, the global network connecting Switzerland and the world in education, research, and innovation, EPFL Space Centre (eSpace), ClearSpace, Space@yourService, UAE University, the Australian, Japanese and the Indian pavilions.

Manuel Salchli, Commissioner General for the Swiss Pavilion said: "Switzerland has a historic legacy in space science from the time of the first manned flight Apollo 11 landed on the moon. This is why this event is very important for us, as it is an opportunity to shed the light on the research, education and innovation in the field of Space. The presence of Prof. Claude Nicollier highlights the Swiss achievements in Space, something we are very proud of".
The Swiss Space Week activities will revolve around enhancing sustainable development and use of Big Data in innovation. The Swiss pavilion will demonstrate innovation in sustainable space logistics and spatial exploration through the exhibition organized in the Fountains of Innovations.
The focus on education will present how important is space technology transfer in achieving the UN SDGs, highlighting student initiatives of space innovation and eSpace during a workshop.

Under innovation, Switzerland will display ClearSpace, a startup born in the EPFL and selected by the ESA to lead a consortium to develop technologies for capturing and deorbiting space debris, which is spearheading sustainability in space. ClearSpace is a first-of-its-kind project in the world and it will launch its first active debris removal mission in 2025.