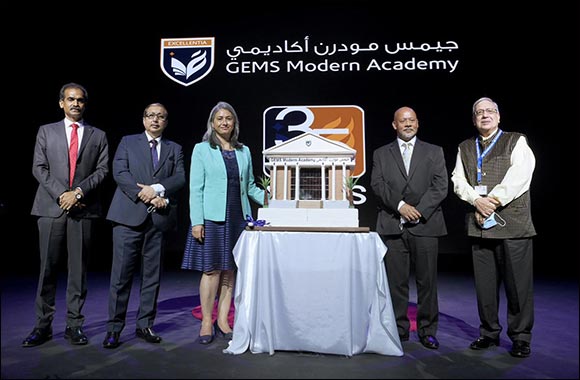 • School choir from first year of operations returns to school for musical tribute
• Indian/IB school welcomes back dozens of alumni and teachers for festivities
• GEMS Education Group CEO, Dino Varkey, among GEMS Modern's alumni
DUBAI, United Arab Emirates - October 18, 2021: GEMS Modern Academy marked 35 years of educational excellence today, with alumni from around the world joining GEMS Education Founder and Chairman, Mr Sunny Varkey, in anniversary celebrations.
Included in a day of festivities led by the school's Principal, Nargish Khambatta, were members of previous school choirs from earlier decades. They performed a rendition of the song 'Fill the World with Love' from the musical Goodbye Mr Chips, ironically about a long-serving schoolteacher.
Students at the only Indian curriculum school in the UAE to carry an 'Outstanding' rating (see here), rubbed shoulders with generations of past students. Their number includes Dino Varkey, the Group CEO of GEMS Education, who attended the school during the 1990s.
Ms Khambatta commented: "Today, Modern turns 35! And what a meaningful journey it has been. From humble beginnings in porta cabins tucked away in Karama, to today's plush campus at Nad Al Sheba, the school community has witnessed a shift in infrastructure, pedagogy, culture and philosophy.
"Through all this change, the one thing that has remained constant is our profound sense of gratitude for the relationships that we, as Modernites, have nurtured for the past 35 years. Modern is now a living, vibrant, global learning ecosystem that inspires children to be positive and sustainable change-makers."
The school launched its celebrations online with a social media series of individual filmed tributes from 35 alumni to mark each year of the school's existence, with each sharing their memories of their school days. Modern is the only Indian school that offers the PYP and IBDP in the UAE and is shortly to be offering MYP accreditation too, so becoming a continuum school.
Dr Sanjay Tolani, a well-known celebrity financial advisor, coach, and author whose books have sold more than eight million copies, was a student at Modern and graduated in 2000. After enjoying the anniversary celebrations along with many other fellow alumni, he said: "Coming back to school today, felt like coming home – as it always does when we visit. Memories and experiences from our formative years found the foundations of our lives and we as Modern alumni are so fortunate to have been nurtured at such a special school to set us on our way."
Celine Ribeiro, a retired teacher who joined Modern in 1987, added: "Modern is a community of staff, students and parents, united with a common vision for the school – to be creators of impact.
"Its classrooms are vibrant with eager learners and nurturing educators supported by very caring staff. Modern believes that each child has latent potential and provides the necessary scaffolding to enable them to thrive and be happy. Local and global accolades come frequently to the school, but Modern has always remained rooted in humility, service to the community and care for the environment. I am honoured to be a Modernite and wish everyone who has been part of its 35-year journey the very best."