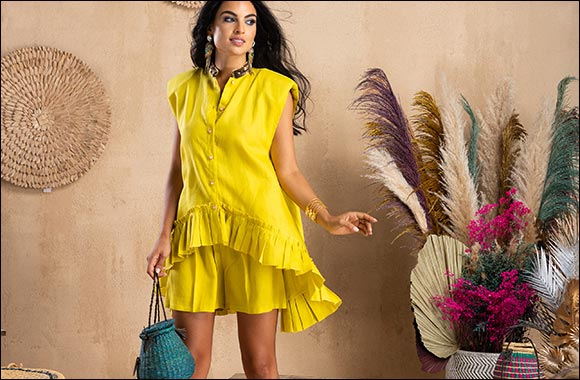 COLOR STORY BY DEE CELEBRATES ITS SECOND ANNIVERSARY WITH THE LAUNCH OF A NEW CAPSULE COLLECTION – TRIBAL THUMKA II EDITION


October 18, 2021 – Dubai, UAE: Color Story by Dee, a female founded vibrant fashion label, announces the launch of its bedazzling new collection – Tribal Thumka II Edition, in celebration of its second anniversary. Customers can explore and order the new anniversary capsule collection online from designer e-tailer platform, Kinzzi or through Color Story by Dee's Instagram page.

Giving tribute to its previous popular collection – Tribal Thumka, and giving nod to the brand's second year of establishment, the new anniversary capsule collection is made with elements from the older collection, 100% eco-friendly fabrics such as linen, and finished by hand with intricate bead embroidery, mirror work and fringe embellishments. What better way to mark the milestone than with launching a collection that portrays zestful femininity?

Featuring chic jackets, flattering dresses, playful jumpsuits, high-waisted pants, pencil skirts and dressy blouses among others, the Tribal Thumka II Edition offers a variety of stylish mix & match selections, aimed at embracing individuality.

In line with the rising demand for custom designed clothing, the UAE's much-loved brand also offers every customer an exclusive experience with its 'Made to order' service. Encouraging unique designs and fits, Color Story by Dee is made for the confident women of today.
Furthermore, fostering a positive change in the fashion industry, Color Story by Dee follows a stringent zero-waste policy by using left-over fabrics to transform them into trendy scarves and more.

"Having our fashion forward customers at the heart of everything our little fashion atelier does, the versatile collection can be worn in a multitude of ways, from day to night, drawing admiration wherever its worn," said Deepti Khanna – Fashion Designer & Founder of Color Story by Dee.