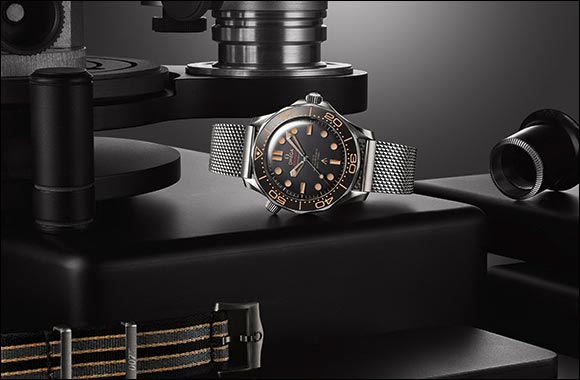 October 13, 2021: The world's favourite spy is back, as No Time To Die arrives in cinemas across the globe. While the details of 007's latest OMEGA timepiece were unveiled at the end of 2019, OMEGA is now proving that there's more to this Diver 300M than meets the eye!
During the mission, a coiled mechanism is fitted to the underside of the watch, creating a "limited radius electromagnetic pulse." Thanks to the ingenious work of Q, this clever addition helps 007 to short out any circuit on a hard-wired network.
The watch proves to be a useful tool for 007 in the film, and in one scene, James Bond shares his own admiration with Q by saying, "just showed somebody your watch. It really blew their mind."
It's a special piece of movie-making excitement, yet in true life, the technical capabilities of the watch are not too far from OMEGA's real watchmaking magic.
Like almost all of OMEGA's mechanical timepieces today, the genuine Seamaster Diver 300M 007 Edition is Master Chronometer certified, meaning that it has been tested and approved at the Swiss industry's highest standard of precision, performance and magnetic-resistance. Built with ingenious OMEGA technologies, including a Co-Axial escapement, a silicon balance spring, and other non-ferrous materials, the watch is able to resist magnetic fields up to 15,000 gauss (similar to that of an MRI scanner).
Although customers who wear this watch may not be expecting to save the world, this level of anti-magnetic technology is the perfect protection against every-day magnetic fields, such as mobile phones and laptops, which can disrupt a mechanical watch and stop it from working.
Once you've seen it on screen, we suggest you make it your own mission to try this watch on your wrist. The Seamaster Diver 300M 007 Edition has been crafted in OMEGA's own laboratory from lightweight Grade 2 titanium, with a "tropical" brown dial and unique military markings. It's available to own on a titanium mesh bracelet or a striped NATO strap.