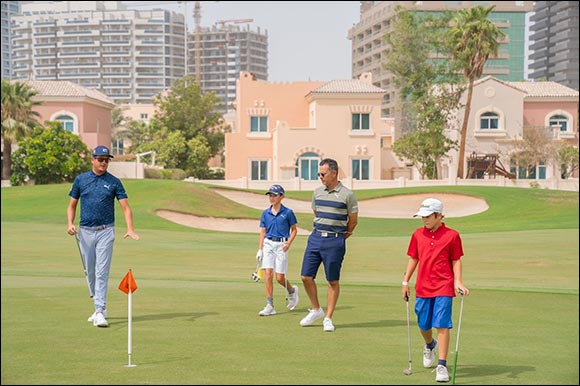 • Students jump at opportunity to hear from one of the world's top golf coaches
• FirstPoint has partnered with Claude Harmon III Performance Golf Academy
• School's Golf Centre of Excellence offers a bespoke curriculum to top golfers
Dubai, United Arab Emirates - October 06, 2021: Celebrated professional golf coach Claude Harmon III, the grandson of the late Claude Harmon and son of Claude "Butch" Harmon Jr, yesterday paid a visit to GEMS FirstPoint School – The Villa to share his life lessons, advice and secrets for success with a rapt audience of young, up-and-coming golfers.
During an hour-long, free-flowing talk and Q&A session, Harmon spoke to senior FirstPoint students about what it takes to reach the highest echelons of any sport, the importance of learning from mistakes, and how relentless hard work and dedication are essential for top-level achievement.
Claude Harmon III said: "It doesn't matter if it's sports, art, music, business or science, to reach the top there aren't many shortcuts. If you want to be successful, if you have a task and goals in mind, you have to put the work, dedication, time and effort in, because you get out what you put in. Most golfers I've been around are very much goal-oriented people, they write their goals down and have a very clear idea of what they're trying to do. You might get some lucky breaks, but I always believe that if you get a break, you have to be ready and prepared to take advantage of it."
Among the students mesmerised by Harmon's personal stories were the talented golfers enrolled in the school's Golf Centre of Excellence, who had earlier also had the chance to get Harmon's feedback on their golf swings during an exclusive coaching session at Dubai's Els Club, home to the Claude Harmon III Performance Golf Academy.
Oscar Nami, a Year 9 student at GEMS FirstPoint School, said: "Claude's presence has benefitted not only my golf game, but also my mind-set and how I perceive golf day-to-day. I realise that individuals have their own strengths and there is always room for improvement, no matter the age or ability. I had the chance to participate in an individual coaching session with him, and he delivered extremely high-quality drills. He focussed on developing specific aspects of my swing and broke down his feedback clearly for me to understand; showing and telling me exactly how to improve. Participating in the sessions with him has allowed me to focus on my future path within the game and has given me direction and motivation to pursue my next steps in College Golf. It is an experience I will never forget."
Fedde Wassink, a Year 11 student at GEMS FirstPoint School, said: "I have been extremely fortunate to work with Claude Harmon III this week. By telling me about his past experiences, his vision and mind-set, he has helped me to look at my golf game in a different way. He has shown me different ways to improve my golf weaknesses, and his innovative sessions have made me think deeper about my game. Claude has also helped me to realise that everything I want to achieve is all in my own hands. All of my goals are possible if I just put my mind to it; I need to try all that I can to achieve my goals. This is an experience not many golfers get; I am truly grateful."
GEMS FirstPoint School, in partnership with the Claude Harmon Performance Golf Academy, offers a bespoke curriculum to elite-level golfers, allowing them to gain qualifications both academically and vocationally without impacting on their training and coaching development. The programme provides a pathway into the professional game through scholarships to university or professional coaching centres.