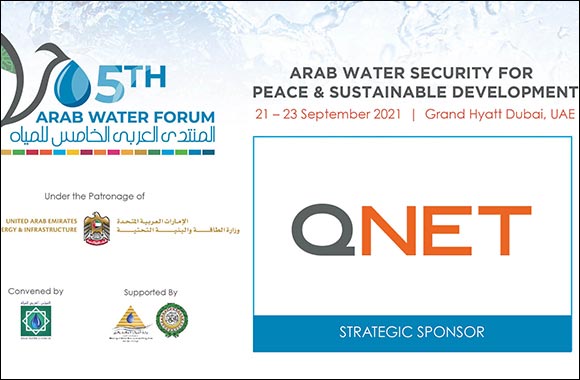 Dubai - 28, September 2021: Continuing its commitment for environmental support, QNET, a global e-commerce based direct selling company participated in the recently concluded Arab Water Forum (AWF) and introduced their latest offering 'HomePure Complete Water Line', which included the HomePure Nova Water Filtration System, HomePure Prefilter 1-mc and HomePure NovaSoft.
The launch of HomePure Complete Water Line products, at the AWF, corresponded to the Forum's overall objective since this ingenious water filtration system does not waste water nor require electricity for usage. In additional, HomePure Complete Water Line helps reducing unnecessary single-use plastic bottles that will be left in landfill.
The Arab Water Forum addressed vital issues such as Arab Water Security, Transboundary Water Cooperation, and Water for Sustainable Development, and several other different topics and issues. The Forum assembled high-level Arab water community leaders, think tanks, and key decision-makers, who thoroughly discussed water challenges that the Arab region is facing, being one of the most water-scarce regions in the world.
Commenting on the occasion, Malou Caluza, CEO of QNET, stated: "Having a hold of more than 10 years of excellence and extensive knowledge pertaining to water quality in over 90 countries, we were certainly able to launch the strongest innovative water filtration system that guarantees a stream of clean, safe, and nourishing Pi-Water in our consumer's home, providing filtration of fine sediments, as small as 1 micron, which cannot be seen with the unaided eye."
The fifth edition of AWF 2021 took place this year in Dubai, convened by the Arab Water Council (AWC), under the patronage of the United Arab Emirates' Ministry of Energy and Infrastructure. The Forum was powered by the League of Arab States (LAS), Egypt's Ministry of Water Resources and Irrigation (MWRI), together with a myriad of water authorities from 22 different Arab countries. AWF also hosted several scientific and non-scientific panel sessions, for three consecutive days, as well as an Arab Water Expo, in which QNET had a designated booth for HomePure.
It is worth noting that over the years, the number of people participating in the Forum has increased from both the international and Arab communities. The Forum connects over 800+ water sector professionals, innovators, decision-makers, as well as international collaborators, from across 22 Arab Countries, with the aim of discussing imminent water challenges in the Arab region, in addition to some effective solutions to be able to properly tackle them.