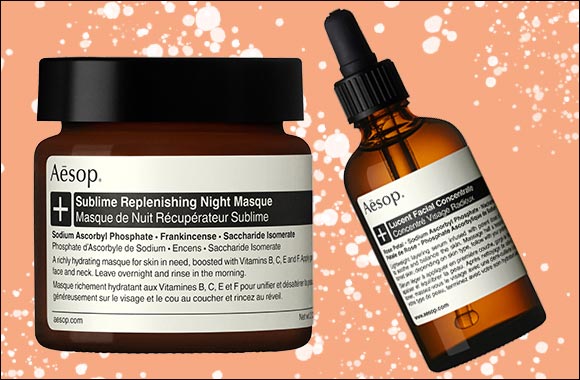 August 25, 2021:
Sublime Replenishing Night Masque
An overnight redeemer for skin in need
'A city is more than a place in space, it is a drama in time.' Patrick Geddes
Aesop's vitamin-rich Sublime Replenishing Night Masque is a lightweight gel-cream containing generous doses of Vitamins B, C, E and F, in concert with ingredients known for their hydrating and emollient properties—including Sodium Carrageenan, Panthenol and Squalane respectively. Part of the company's Skin Care+ range, the nourishing formulation offers sustained hydration with a soft, non-greasy finish, helping to replenish and strengthen the skin, and even its texture and appearance.
Suited to dry, dehydrated, dull, patchy or mature skin, the masque is formulated for use whenever boosted hydration is desired, and leaves the skin feeling soft, supple and nourished. After cleansing and toning, gently apply a generous amount to the face and neck; leave on overnight and rinse in the morning during routine cleansing.
'Sublime Replenishing Night Masque is ideal for nurturing skin when a life well lived has taken a toll. Parched skin will relish the immediate and sustained hydration it provides while skin-nourishing vitamins help to even and brighten the appearance of skin dulled or fatigued by life's excesses', says Dr Kate Forbes, the company's Innovation Director. 'Presenting an alternative for those seeking boosted hydration and balancing benefits in their treatment routine, Sublime Replenishing Night Masque is an apt complement to customers' existing suite of daily-use hydrating products.'
Sublime Replenishing Night Masque is packaged in a 60mL amber glass jar, and is available at all Aesop signature stores, department store counters, select stockists and Aesop Online.
RRP: 440 AED / 60mL
'Night, when words fade and things come alive.' Antoine de Saint-Exupery
**
Lucent Facial Concentrate
A vitamin-rich formulation for most skin types
Aesop's latest release in the Skin Care+ range is Lucent Facial Concentrate, a potent serum formulated to balance and fortify the skin. The serum's aqueous viscosity and matte finish is ideal for those who eschew oil-based hydrators and heavy creams, but still desire concentrated doses of fortifying vitamins, intense hydration and nourishing botanicals.
Vitamin C, in concert with soothing Niacinamide (Vitamin B3), evens and balances the skin. Nourishing oils of Rose Otto, Sandalwood and Frankincense along with Sodium Carrageenan provide sustained hydration. Dedicated use of this serum will help improve the skin's appearance and offer lasting benefits.
To use, dispense half a teaspoon into hands and gently massage into cleansed and toned skin, from forehead to neck. Suitable for year-round use, Lucent Facial Concentrate provides ideal hydration for combination and oily skin types and can also be layered under your preferred Aesop hydrator, as required.
The serum joins B Triple C Facial Balancing Gel, Perfect Facial Hydrating Cream and Damascan Rose Facial Treatment in Aesop's Skin Care+ range: formulations distinguished by their concentrated measures of high-quality botanicals, vitamins and anti-oxidants.
Lucent Facial Concentrate is packaged in a 60mL amber glass bottle with pipette and will be available from 5 September 2016 at Aesop signature stores, counters in fine department stores and stockists across the globe, and at Aesop Online.
RRP : £77 60mL