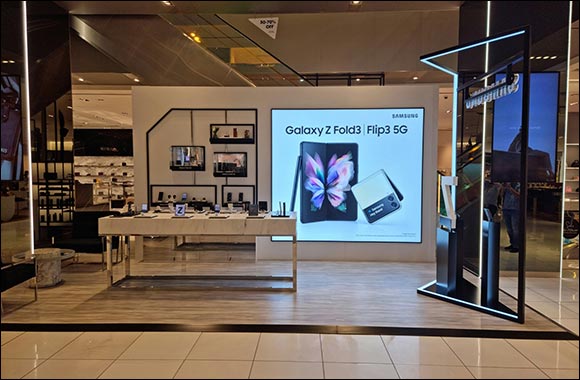 Dubai, UAE – 18 August 2021 – Samsung Gulf Electronics has launched a unique pop up installation to showcase the brand's latest premium products at Harvey Nichols – Dubai in Mall of the Emirates. Until Saturday, September 25, 2021, consumers can discover the new Galaxy Z Series, Galaxy Watch4 Series, and Galaxy Buds2,. This opportunity is a continuation of Samsung's collaboration with Harvey Nichols - Dubai to promote upcoming releases, and those visiting can also pre-order their new smartphones, wearables, and wireless headphones ahead of official availability and receive exclusive gifts with specific devices.
The products at Samsung's Harvey Nichols – Dubai POP UP – located on the Ground Floor – include the Galaxy Z Fold3 5G and Galaxy Z Flip3 5G, which are viewable in all their different colours respectively, as well as the Galaxy Watch4, Galaxy Watch4 Classic, and Galaxy Buds2. Consumers pre-ordering the Galaxy Z Fold3 5G will be given a complimentary pair of Galaxy Buds Pro, S Pen cover and Samsung Care+ for one year. Those who pre-order the Galaxy Z Flip3 5G will receive a complimentary pair of Galaxy Buds2 and1 year Samsung Care+. Samsung promoters will also be available to assist and support customers with all product-specific questions and inquiries.
The Galaxy Z Series Common Features
Samsung continues its foldable device manufacturing leadership with refined operations and time-tested processes to create devices that remain reliable after years of use. The revolutionary Hideaway Hinge enables the devices to stay in place at different angles for innovative user experiences with Flex mode. And thanks to enhanced Sweeper technology, the bristles inside the Hinge are now shorter, helping to repel dust and other particles and maintain the devices' durability and seamless user experiences. The Galaxy Fold3 and Galaxy Z Flip3 also are equipped with the world's first IPX8 water-resistance in a foldable device, and the strongest aluminum on a smartphone to date.
Galaxy Z Fold3 5G
Built for those who need the ultimate device to power their productivity and maximize every moment, the Galaxy Z Fold3 5G combines power, efficiency and immersive viewing so you can check off your to-do list faster and have more time for next-level gaming, content viewing and video calling. With space for up to three apps at once, it is the ultimate productivity tool for modern multi-taskers. The new Taskbar that enables easy app switching without returning to the home screen and App Split View allows you to view more information without constant back and forth between apps.
Galaxy Z Flip3 5G
For those who need a device that's as stylish as they are, the Galaxy Z Flip3 5G empowers you to express yourself with bold color options, a sleek, compact design, and trendy new accessories. Unfold and snap a stunning selfie with Z Flip3's studio-quality camera features with Flex mode, then add to your social feed, which scrolls smoother than ever with a 120Hz adaptive refresh rate. Thanks to the super clear glass on the rear camera, you can also take photos continuously with high light transmittance and less flare in every single shot, with a host of other features at your disposal for an entirely new foldable experience.