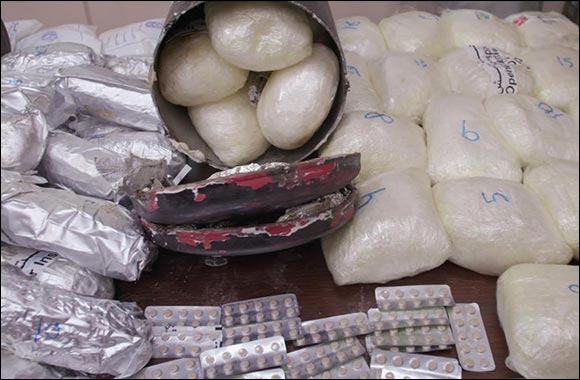 Sharjah, July 29, 2021: The Sharjah Ports, Customs and Free Zones Authority revealed that Sharjah Customs officials managed to thwart an attempt to smuggle about 93 kilograms of crystal meth and 3,000 methadone tablets into the country.
The seizures were hidden under a container carrying foodstuffs coming from one of the neighboring countries, the Authority said in a statement.

When checking the container upon its late arrival during the Eid al-Adha holidays, Customs officials found out that there were imbalances in the distribution of goods inside the container. As per customs procedures, the shipment was subjected to checks and examined using the latest technologies which led to the discovery of the drugs which were hidden meticulously inside iron cylinders. The drugs were then seized in coordination with the concerned authorities.
The Authority underlined that Sharjah Customs has an advanced customs system capable of thwarting all forms of smuggling attempts at all land, sea and air ports and deter those individuals or criminal networks that seek to enter drugs or narcotics.

It added that Sharjah Customs inspectors and officers enjoy high capabilities and advanced skills and are equipped with the latest technologies that support them in performing their tasks and blocking any attempts that threaten the security of the country and its people.
The Authority added: 'Our customs officials are always alert to foil such attempts of smuggling in various circumstances in order to maintain the security and safety of society.'

In its statement, the Authority underlined its commitment to advancing the performance and skills of customs officials and training them on the latest equipment that helps them thwart smuggling attempts and safeguard society.

The Authority hailed the efforts of the concerned authorities in the Emirate of Sharjah for the coordination and cooperation to deter any attempt that threatens the security of the country, stressing its commitment to strengthening its efforts to counter drug smuggling attempts at all land, sea, airports, in line with the national efforts to protect homeland security and the strategic plan of the Federal Customs Authority. This would contribute to supporting the sustainable development process and raising the level of the country's trade exchange by ensuring the security and stability of society and enhancing the safety and prosperity of the national economy.