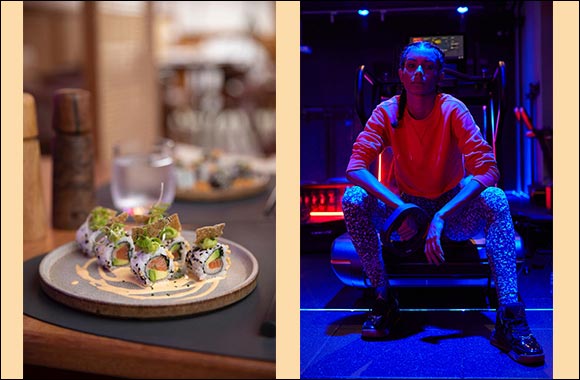 · Exciting schedule of events throughout July and August
· 6in5 Challenge at BARE Fitness challenge offers unlimited exercise classes
· Sushi Workshop at UCHI M'OISHÎ
Dubai, United Arab Emirates, July 28, 2021: At THAT Concept Store, the designers, beauty experts, fitness coaches and chefs are helping shoppers become the best version of themselves this summer. The home-grown retail concept from Majid Al Futtaim will be offering opportunities for personal growth throughout July and August. Here's a round-up of the events, workshops and activities everyone can get involved in at Mall of the Emirates and City Centre Mirdif:
1. Take part in the 6in4 Challenge
For those looking to get in shape, the experts in transformation at BARE Fitness are running the 6in4 challenge. The program includes unlimited workout classes (including the famous BLACK workout that burns up to 1000 calories in 50 minutes), full body analysis, detailed nutrition guides and lots of prizes up for grabs. A WhatsApp group of private members will help challengers lose 6 kilograms in just 4 weeks as they support each other in getting into shape.
The program might not start until July 30th, but the first 20 to sign up will receive an early-bird discount and a limited-edition gift bag.
2. Learn how to make sushi at UCHI M'OISHÎ
On August 7th, the chefs at UCHI M'OISHÎ will be teaching sushi for beginners to help everyone cook delicious and nutritious meals at home. The Japanese fusion restaurant is easily located on the first floor of THAT Concept Store, with the one-hour maki workshop starting at 10.00am. Sign up is required by inboxing @thatconceptstore directly on Instagram.
3. Get inspired by THAT Concept Store on Instagram
Collaborating with beauty gurus and specialists on social media, THAT Concept Store will be tackling topics such as body-shaming, the importance of relaxation and the benefits of pampering yourself to help shoppers feel happy and healthy. Stay tuned for more information by following the Instagram page.
4. Try out the healthy options at AROUND THE BLOCK and No. FiftySeven Boutique Café
Having opened its doors recently on the second floor of THAT Concept Store, AROUND THE BLOCK is serving up healthy bowls, tasty smoothies and specialty deserts for when shoppers really deserve a treat. Their exclusive Choco Avocado Mousse Chia Pudding is a lighter twist on everyone's favourite pudding.
And on the opposite side of the store, No. FiftySeven Boutique Café – the Abu Dhabi favourite – has fresh juices, avocado toast and delicious salads for a wholesome brunch or dinner. It's the perfect place to relax after a shopping extravaganza or fuel up after a workout.
5. Check out The Burrow Café in City Centre Mirdif
Nowhere near Mall of the Emirates? THAT Concept Store has another location in City Centre Mirdif which has its own café delivering cheers and happiness. The avant-garde space is perfect for sitting down after a long day of retail therapy with a hot, artisanal coffee and a sweet treat.