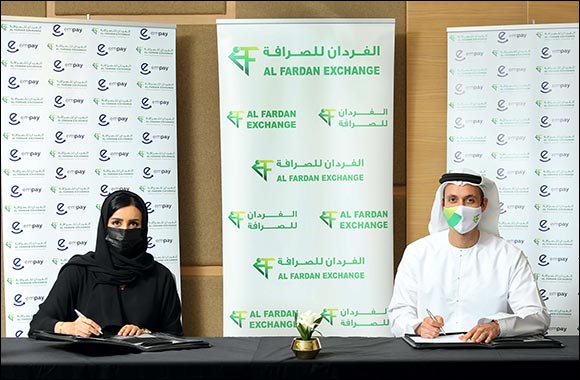 The UAE's leading exchange signed the deal with the contactless payment ecosystem, providing more choice, convenience and flexibility to customers

Dubai, UAE - 26, July 2021: Al Fardan Exchange, one of the UAE's leading financial services providers, has announced a partnership with Empay, the world's pioneering contactless payment and instant credit ecosystem.

The deal means that Al Fardan Exchange will be the exclusive remittance partner of Empay, which was looking to scale up its operations in this important financial services sector. The partnership agreement was signed between Mr. Hasan Fardan Al Fardan CEO of Al Fardan Exchange, Ms. Muna Al Qassab, CEO of Empay and Mr. Gigi George Koshy, Deputy CEO and CPO of Empay.

Selecting the Al Fardan Exchange icon on the Empay app now allows access its remittance services and after satisfying the one-time KYC norms as stipulated by the UAE Central Bank, users can immediately transfer money to their beneficiaries, either to a bank account, or as instant cash.
'The partnership opens yet another channel to extend Al Fardan's services to a wider audience in the UAE, offering even more flexibility and choice to customers,' said Mr. Hasan Fardan Al Fardan, CEO of Al Fardan Exchange.
"We are delighted to be entering this strategic agreement that will see Al Fardan Exchange become the first remittance partner of Empay. Our collaboration will provide all-new opportunities for our combined customer base as this partnership will add value and convenience while underscoring our shared commitment to digital innovation in the financial services sector as well as customer service excellence," he added.
Ms. Muna Al Qassab, CEO of Empay, said: "Empay's in-app payments transcends UAE borders. From the tap of a button, users can now remit money across the globe. Since, we are living in the day and age of contactless payments; Empay seeks to fulfill the need for avoiding long queues and endless waits for international money transfer. What makes Empay unique is our customer-centric focus."

Mr. Gigi George Koshy, Deputy CEO & CPO of Empay, commented: "The vision behind the UAE's Smart Government programme is to reinforce the customer-centric approach to all our services and offer a flexible digital channel that supports multiple activities. This partnership complements and advances the progress UAE has made in this sphere."

Al Fardan Exchange was founded in 1971, and since then has grown its exchange network to more than 70 locations across the UAE and enjoys longstanding relationships with more than 150 banks and other financial institutions.

Empay is the region's first national contactless mobile payment app developed for the UAE residents from all walks of life and can be used across a wide variety of payments and lifestyle services such as government payments, tap & pay payments (Android), all types of bill payments, food ordering from restaurants, education fee payments, international remittance and much more.

UAE residents can download the free super app from the Google Play Store or iOS App Store and register in just two minutes, and avail a Mastercard powered digital card within the app.