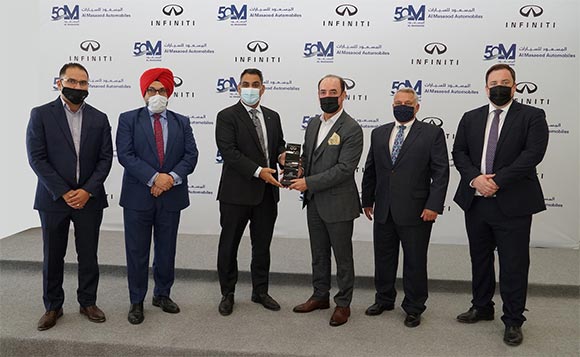 Abu Dhabi, June 16, 2021 - Al Masaood Automobiles, Abu Dhabi's leading car dealership and distributor of INFINITI in Abu Dhabi, Al Ain and the Western Region, has recorded a double-digit increase in its local market share of INFINITI in 2020 and in the sales of its key INFINITI models, despite COVID-19 challenges.
INFINITI Abu Dhabi's market share increased by 10 per cent last year following the company's overachievement across key performance indicators (KPIs) in sales, after-sales, parts, technology and customer satisfaction. Al Masaood Automobiles also posted an average 26 per cent sales growth across its key INFINITI models (Q50, QX50, Q60, QX80). It's SUV line up (QX50, QX80) specifically witnessed a strong demand, posting a combined 30 per cent increase in sales in FY 2020.
Implementing rapid actions to innovate, adapt, and excel under the new normal, Al Masaood Automobiles bagged INFINITI's 'Outstanding Performance Award' for the Fiscal Year 2020.
In 2020, the company recorded a 22 per cent jump in its QX80 sales year-on-year. Additionally, despite a plateau in the SUV-D market, INFINITI Abu Dhabi's QX50 sales year-on-year rose 49 per cent.
Apart from its sales achievements, the company additionally experienced a 15 per cent rise in after-sales contracts during the fiscal year 2020 with strong achievement in customer satisfaction scores.
Irfan Tansel, Chief Executive Officer, Al Masaood Automobiles, said: "At Al Masaood Automobiles we adopt an ethos of service excellence that puts the customer front and centre in everything we do. Our receipt of INFINITI's Outstanding Performance Award, and the success of our sales and aftersales operations is only indicative of our customers' growing trust and confidence in us. The innovative solutions that we continue to develop stem from our drive to offering INFINITI owners a very positive Total Ownership Experience."
"Despite the recent challenging market conditions, our collaborative endeavours to elevate the INFINITI brand in the Abu Dhabi market have yielded the year-on-year growth. However, the main driver behind this recent recognition is the incredible team at INFINITI Abu Dhabi who have been working with much dedication." Tansel added.
Commenting on Al Masaood Automobiles' new milestone, Nasif Siddiqi, Managing Director of INFINITI Motor Company, said: "Congratulations to Al Masaood Automobiles and its entire team. It's a well-deserved award, resulting from the company's solid management strategy and teamwork. This overachievement, especially during the tough times, is truly remarkable. Over the years, Al Masaood Automobiles has been working towards reinforcing our luxury brand's presence in Abu Dhabi. For this reason, we extend our appreciation and gratitude to Al Masaood Automobiles for its continued excellence and support to INFINITI."
The award also recognises Al Masaood Automobiles' digitally driven initiatives to bring to the fore the INFINITI brand in the automotive market.
One of its many innovative ways to increase the attractiveness of the luxury auto brand to existing and rising generations is offering a holistic digital experience at every stage of the car purchase journey. This included digital stands and visualisers at its state-of-the-art showroom, a virtual INFINITI vehicle configurator, which presents customers and a 360-degree view of their desired vehicles with their customised features.
Al Masaood Automobiles also launched a full digital buying experience - CLIX (Connected Live Interactive Xperience) to offer customers a fully interactive live showroom experience straight over live video streaming.