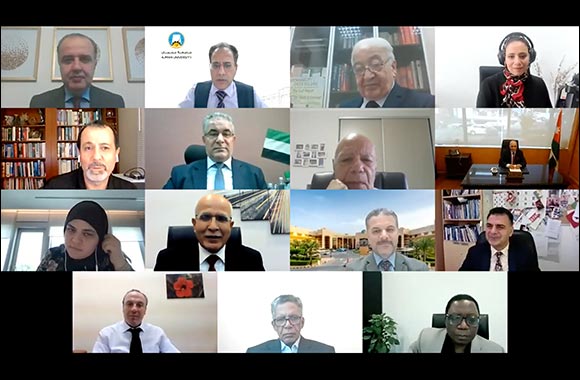 30 scientific sessions, 130 lectures during 3-day virtual conference draws participants from all over the world
June 14, 2021: Ajman University, in partnership with the International Centre for Innovative Education in Germany, organized and hosted the 20th Excellence, Gifted Education, Innovation, and Creativity in Higher Education conference. H.H. Sheikh Humaid Bin Rashid Al Nuaimi, Ruler of Ajman and Chairman of Ajman University Board of Trustees, along with AU Chancellor Dr. Karim Seghir, welcomed the virtual participants to the 3-day event.
The conference highlighted Arab experiences and global creativity, as well as innovation in public higher education. The gathering is designed to promote cultural communication and the exchange of experiences among participating researchers. Participants focused on a variety of educational research topics and included scholars from the United States, Britain, Australia, Jordan, Egypt, the Kingdom of Bahrain, and the United Arab Emirates. Thirty scientific sessions were held during the three days, with 130 lectures delivered by distinguished senior specialists and researchers.

Ajman University Chancellor Dr. Karim Seghir thanked conference participants and expressed his satisfaction that Ajman University organized this conference in partnership with the International Center for Innovative Education in Germany. "The national strategy for higher education in the UAE is always directed at enhancing students' talents and capabilities in line with global requirements in the higher education sector. That is why the university was keen to raise its full readiness and technical infrastructure to achieve the state's vision in achieving the requirements of higher education, especially during the pandemic, and we succeeded in occupying prominent places during this difficult time," Dr. Karim said, adding, "I am also pleased with the rise in the university's research output, especially in important topics such as artificial intelligence."
Many of the sessions were focused on educational innovation, creativity, educating gifted students, general education and higher education issues, distance education, e-education in the time of the COVID-19 pandemic, and the overall trends and challenges. The importance of excellence, creativity, innovation, as well as enhancing student abilities in science, the basic skills needed to solve life's problems, and negotiating the post-pandemic job market were also discussed.
An important benefit of this conference is the published scientific research. Several papers presented at the conference will be published, including peer-reviewed journal articles and informational brochures about the conference presentations. Research summaries will be published soon on the conference website.