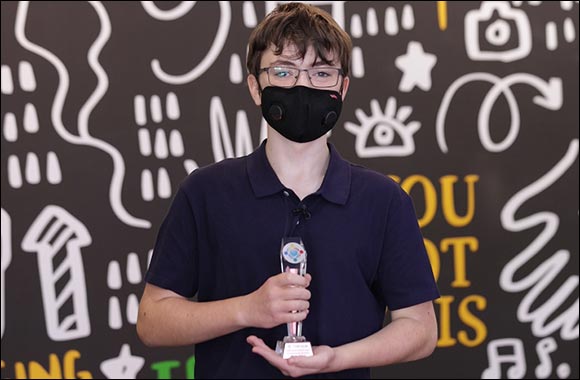 • GEMS Education showcases students' creative designs, initiatives and inventions
• Partnerships and internships with industry leaders equip students for digital future
• GEMS Centres of Excellence at the forefront of innovative technology and learning
Dubai, United Arab Emirates - April 21, 2021: GEMS Education is marking World Creativity and Innovation Day (21 April) by celebrating the unique designs, creations and inventions of its students.
All schools in the GEMS network are driven by the firm belief that students learn best in a creative environment where they can confidently develop their ideas and learn from peers, highly engaged teachers and industry experts.
GEMS Education's Centres of Excellence lead the way in pioneering technology, innovation and creativity, equipping students with the skills and abilities to achieve their potential in a digital 21st-century environment.
The five GEMS Centres of Excellence specialise in Artificial Intelligence and Robotics at GEMS Dubai American Academy; Aviation, Aeronautics and Space at GEMS International School – Al Khail; Entrepreneurship, Innovation and Social Impact at GEMS World Academy – Dubai; Digital Industries and Sustainability at GEMS FirstPoint School – The Villa; and Performing Arts and Theatre Technologies at GEMS Wellington Academy – Silicon Oasis.
Supported and inspired by these dedicated centres, and beyond, GEMS students are creating game-changing products and innovations that crossover from the classroom to the real world.
Vikas Singh, Aviation Centre of Excellence Lead at GEMS International School – Al Khail, said: "At GEMS International School, our students are gaining exposure to state-of-the-art technology and are already comfortable and confident designing and innovating in highly advanced areas of aviation. Our students leave school ready to face the world with not just big ideas, but also strategies and know-how on how to make them a reality."
• Young Inventors
Born out of his experience feeding his two younger siblings, 10-year-old Grade 3 student Omar Sweid, who attends GEMS Dubai American Academy, developed a baby feeding spoon that tells adults when the food is at the right temperature for an infant to eat. His idea has been submitted to the Expo 2020 Dubai Young Innovators Programme and he is developing the prototype with support from Expo 2020 Dubai and his teachers at school.
• Entrepreneurship at GEMS World Academy – Dubai
GEMS World Academy – Dubai, is home to The Hub, a centre for entrepreneurship that sees students partner with business leaders. Students this year have participated in a new initiative where they have been mentored by peers as they developed their business plans and prototypes. The winning entry during the school's recent 12-week entrepreneurship workshop was 'Monster Box', developed by 16-year-old Grade 9 student Cullan Buchan, who plans to create a vending machine that financially rewards users whenever they deposit a certain amount of plastic bottles for recycling. Cullan's idea is now on the way to becoming a reality with help from the school and external businesses.
Cullan Buchan, creator of Monster Box, said: "These past few months have been amazing. At the beginning of the programme we were all put into groups and assigned a mentor to work with. I've learned so much from my mentors about planning, sourcing, marketing and more. I'm excited to see how far we can take Monster Box."
The learning of real-world business goes beyond class-based presentations and plans, and students who want to proceed with their initiatives can access support from industry partners such as Wamda, She is Arab, and Young Arab Leaders. The Hub at GEMS World Academy is also providing lessons in trade licensing, as well as workshops in intellectual property from Al Tamimi & Company.
• Digital Futures and Sustainability at GEMS FirstPoint School – The Villa
GEMS FirstPoint is the first school in the UAE to offer the International BTEC in Esports, and Creative Media Game Design. Supported by Pearson and British Esports Association, the course is available to students from September 2021, preparing students for the future with industry-recognised qualifications.
• Sustainability initiative – Pollution Patrol
Created by five Year 11 students at GEMS FirstPoint, 'Pollution Patrol' was inspired by the group's interest in geography and their desire to make a difference and find a solution to help indigenous communities all over the world get access to clean water. The students – Sannidhi Gudipati, Amy Downes, Lucia Lang, Daria Haidar and Karma Ahmed Mohamed – designed a water filtration system built into a barrel with sieve-like layers that filter debris and other substances from the water. Their novel idea was entered into the global Climate4ActionChallenge competition and was shortlisted as one of the leading ideas.
• Industry partnerships and student internships
GEMS FirstPoint has developed fruitful relationships with Siemens and Schneider Electric, which have provided students with virtual internships that include job-shadowing, individual mentors and opportunities to collaborate on real business-related projects. At Siemens, the students have developed a sustainability programme for their school that will result in a significant reduction in carbon dioxide emissions.
Peter Hogg, Talent Acquisition Director MEA, Siemens, said: "We must never underestimate the imagination and perspective of the rising generation, particularly as they relate to the most important topics of our time; sustainability, digitisation and finding efficiency through great technology. This is why we partner with GEMS FirstPoint School. Our values are aligned, and I am impressed by their drive to expose their students to industry partners. Our GEMS FirstPoint interns are exploring how we make energy accessible, efficient, safe and digital. We are supporting them in applying these principles to areas of their specific interest and future aspirations."