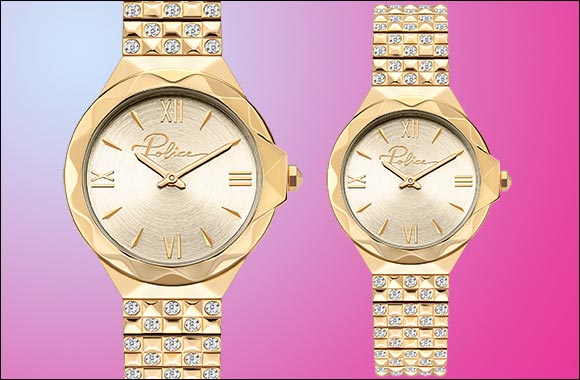 April 10, 2021: Chic, opulent and memorable - that's what makes a unique gift. Presenting Police ladies collection- an ensemble of the sophisticated Agra watch, the exquisite and enchanting Roman necklace and bracelet. Crafted to true perfection and a spelling design, the collection embodies all elements Uniquely You. Be it work, casual meetups or just winding off, the all-new collection accentuates all that's sui generis in you. Nothing comes close to a gift that's a true reflection of all elements that are Uniquely You. Mother's Day, Women's Day or just about any other day of the year, the Police ladies collection is the quintessential gift to celebrate her.
Taking inspiration from a palette as vivid as your persona the Agra timepiece sports a classy shine and an elegant finish. Adorned with an outward emanating pattern, the bezel gives way to the lustrous crown and lug which meets the stainless steel strap studded with shimmering stones radiating the glitz that is bound to enthrall. An extension of your personality, your exclusivity, the horologe carries the roman hour markers, sleek hands and the freehand Police logo elevating its semblance.
Jewellery that exhibits unequalled artistry and craftsmanship is fitting for every occasion. The Roman necklace with a minimalist yet alluring design amalgamates fine craftsmanship with a dash of Police's signature style statement. Band and hoop design with precious stone gleaming at the core forms the beguiling pendant hitched to the bail and chain that flaunts a posh finish playing up your unique quotient. Staying true to the poised workmanship and ravishing design, the bracelet lends a charismatic flair to your plush sense of fashion. Thoughtful designs and patterns weaved to complement the distinguished aura of her. The two bands with a zircon at the centre are coupled together between a beauteous chain extending into a lobster clasp.
Elegance, opulence and subtle grandiose - all congregate and blend in the latest Police ladies collection. A gift for her who embodies and epitomizes it all. For her who exudes charm, grace and sophistication. For her who personifies ardour and fervour. For her who is affable and fierce. For a woman who is unique and much more. A collection dedicated to everything that's Uniquely You.