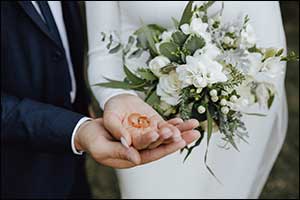 Saying your vows to your future spouse and promising a life together can be one of the greatest and most memorable chapters of a person's life. In UAE, couples wanting to get married, either in a church, temple, or court, need to follow certain steps in order to get married in Dubai UAE.
Take note: couples with the same nationality and religion will experience an easier procedure for marriage. If you will be marrying an expatriate of different religion and/or nationality, there will be certain conditions to meet. It is best to consult with a marriage lawyer in UAE for legal advice.
Step 1: Acquire a certificate of capacity in contracting marriage.
The certificate will state that there's no legal impediment on the marriage with a spouse. Both parties to a marriage will have to provide such certificate which will be enough proof the marriage authorities need that there's no objection of marriage from their home countries.
Foreign nationals or expatriates residing in UAE may get their certificates of legal capacity in contracting marriage in their respective embassies or consulate in the UAE. Getting a certificate can take one day, depending on the embassy; however, it can also take months. Make sure that you have booked an appointment and you have gathered all of the documents required for processing the documents. For a smoother and faster transaction, you can entrust the processing of the document to marriage lawyers in UAE.
The common requirements for acquiring a certificate for contracting marriage are listed below. Remember that all these are mandatory.
Affidavit or affirmation of marital status. The affidavit or affirmation should not be signed prior to the appointment with the embassy or consulate. This will be signed in the midst of a consular staff.
Original passport
A proof of address (can be credit card or bank statements, utility bill, or driving license)
Payment of the consular fee for administering of an affirmation of marital status
Additional documents may be required, depending on the embassy. They can include:
Original or certified copies of divorce decrees if you're divorced. If your divorce papers are in a foreign language, then the original divorce paperwork must be officially translated to Arabic.
Original or certified copies of the deceased spouse's death certificate if you're widowed. If you've lost the original certificate, it will take a much longer time and a more complex procedure to process the application for a certificate of capacity in contracting marriage. Additionally, if a death certificate used a foreign language, it must be officially translated into Arabic.
Original marriage certificate issued by the National Statistics Authority of a contracting party's originating country if previous marriage was annulled. Also, there may be a need to present court documents and Advisory of Marriage.
Original name changes paperwork if supporting documents present a different name that's not on the passport.
Step 2: Notify the authorities for intent to marry.
Applying for a court or church wedding with the Sharia court or your chosen wedding chapel will entail the submission of the following documents:
Marriage application form duly completed
Birth certificates of bride and groom
Certificate of capacity in marrying in UAE for bride and groom
Emirates ID and passport for bride and groom
Recent photos
Parental advice or consent - if a contracting party is anywhere between the age of 18 to 21, then a parental consent will be required. The parents need to appear or create an affidavit signed by two witnesses. If a contracting party is 22 to 25 years old, then parents need to appear before the local registrar or create a written formal statement as parental advice for marriage.
Certificate of attendance for pre-marriage counseling - this applies for church weddings in UAE. Both the bride and the groom have to attend the pre-marriage counseling together.
Step 3: Get hitched!
With a solemnizing officer, guardian of the bride, and at least two male witnesses that are of legal age, a couple can say their vows to each other. It is important to remember to sing a marriage contract during the marriage ceremony.
As per the UAE Family Code, a marriage may be solemnized by:
A marriage officer of the Sharia court within the jurisdiction of the court
A rabbi, minister, imam, or priest of a church or any religious sect that's duly authorized and registered with a civil registrar general to act within limits of the authority that's granted by the religious sect
A consul general or consul
The marriage officer is going to submit the marriage certificate to the local registrar for registration. The couple can then get copies of the marriage certificate. There may be a need to register the marriage at your home country's embassy or consulate in the UAE.
For legal advice and assistance on getting married in UAE, consult seasoned and reputable marriage specialists in UAE such as Dubai Court Marriage.