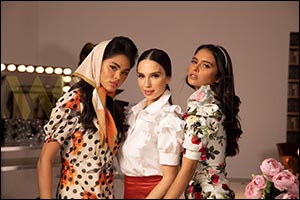 On the occasion of her birthday, the celebrated Emirati singer, Balqees Fathi announced on October 20th, 2020 through her Instagram Page, the launch of her new luxury makeup brand – BEX Beauty.

Balqees has always had an unrivaled passion for makeup and for creating colors, which started ever since she was a little girl, watching her mom apply her makeup. She grew to follow makeup tutorials, trends, and be-friend all her makeup artists to learn about this magical world of colors.

When asked about why she created BEX Beauty, Balqees said:

"Being so connected to my Arab & GCC fans on social media, I could tell that many of them struggled with finding the right makeup products for their skin types, especially considering the harsh weather conditions we endure in GCC. Ironically, I, myself, was not a stranger to this feeling. That is when the idea came to me: To establish BEX Beauty, the first-ever cosmetics brand designed to cater to the needs of GCC ladies, like myself. A brand with a local flair, however, manufactured by the best-in-class cosmetics technology and labs in all of Italy, which is the No.1 Destination in cosmetics, globally."

She also stated that she is proud to announce that all BEX Beauty products are vegan, cruelty free, allergen free and dermatologically tested.
BEX Beauty launches with the star product, Drama Therapy Foundation available in two silky formulas: Lifting & Hydrating for Normal to Combination Skin and Lifting & Mattifying for Oily Skin.

Drama Therapy Foundation is available in 13 exquisite shades ranging from fair to rich brown tones, matching Arab women skin tones.