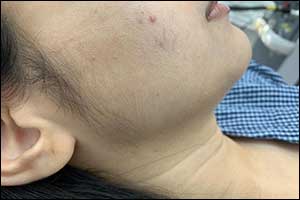 October 16, 2020: After struggling with facial hair from my early teen years, I was looking for ways to deal with my problem of dark facial hair. I tried every natural treatment to remove hair but nothing seemed to work. Following the recommendation of friends and family, I paid a visit to Dr. Olimpia Carmen at the Wellbeing Medical Clinic.
Prior to the visit, I had never received any facial treatments and was very nervous for the pain any treatment would cause. After a quick consultation, Dr. Olimpia recommended me to go in for the laser treatment around my upper lip and side burns in order to remove the dark, course hair. She also noticed some spider veins on the surface of my skin. These spider veins are a clusters of tiny blood vessels that develop close to the surface of the skin and are bluish-purple in colour. She recommended the use of laser to get rid of these as well.
The treatment itself was very quick and both procedures a grand total of about 20 minutes. To my relief, the treatment was essentially pain free. Dr Olimpia really does have miracle hands! Very laser beam started with a gush of cold air, followed my the hot air to burn the skin and ending with another gush of cold air. This meant that you could not feel the insanity of the warm air. In total, she recommended 4 - 6 sessions every 6 weeks in order to burn all hair in the area, however this would differ from person to person.
After having the treatment done I have noticed a massive change in my completion. My face is a lot more even toned and makeup applies a lot more smooth. I would definitely recommend this procedure to anyone who is also in the same position as me and is dealing with dark facial hair.
Wellbeing Medical Centre

Tel: +971 4 3484406, Clinic Mob: + 971 56 2705599
Email: info@wellbeingmedicalcentre.com
WMC Aesthetic Dept: +971 56 2708686
Email: aesthetics@wellbeingmedicalcentre.com
Address: P.O. Box: 12082 Dubai, UAE
Hours:
Saturday – Thursday: 9am – 8pm
Friday: Closed