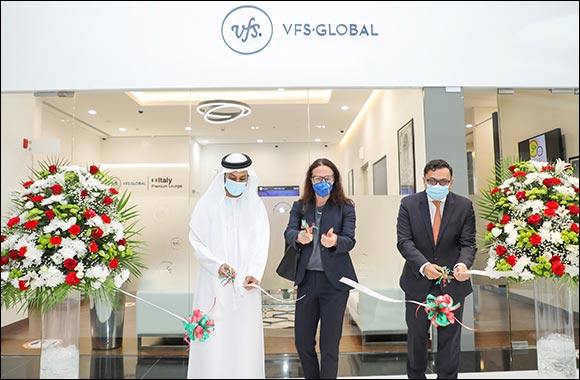 • Centre inaugurated by Ms. Valentina Setta, Consul General of Italy in Dubai, on 27 September 2020
• Managed and operated by VFS Global, the centre has started accepting applications from customers for limited visa categories
United Arab Emirates, September 27, 2020: Residents of Dubai, Sharjah, Ajman, Umm al Quwain, Ras Al Khaimah and Fujairah in the United Arab Emirates (UAE) can apply for visas to Italy at the new Visa Application Centre jointly launched by the Consulate General of Italy in the UAE, and VFS Global, the world's largest visa outsourcing and technology services specialist for governments and diplomatic missions worldwide.
The centre was officially inaugurated on 27 September 2020 by Ms. Valentina Setta, Consul General of Italy in Dubai, and Mr. Zubin Karkaria, Chief Executive Officer, VFS Global, in the presence of dignitaries from the Italian Consulate and VFS Global staff members.
With the launch of the new centre in Dubai, customers can submit their visa applications at the VFS Global centre in DIFC without having to visit the Consulate General of Italy. The centre will initially accept applications for limited visa categories.
Commenting at the inauguration ceremony, Mr. Vinay Malhotra, Regional Group Chief Operating Officer - South Asia, Middle East & North Africa, Americas, VFS Global said, "With the launch of the new centre in Dubai, and our new relationship with the Consulate General of Italy in the UAE, VFS Global reinforces its partnership with the Italian Ministry. VFS Global has a long association with Italy, providing visa services on behalf of the country since 2004. With the growing demand for Italy as a destination, we look forward to welcoming customers to our new centre and offering them our best-in-class services."
In order to ensure a safe, productive work environment for employees, while still protecting communities to the maximum extent possible from the spread of the novel coronavirus COVID-19, VFS Global has established standardised protective measures to be followed across the centre including specific social distancing and sanitation mandates. All customers are subject to body temperature checks before entering the centre, to assess their health condition. Any customer exhibiting COVID-19 symptoms, including high fever, cough and breathing difficulties will not be permitted to enter the centre and will be requested to return once their health condition improves. Additionally, all customers and VFS Global employees are required to wear a face mask and gloves within the centre.
Managed by professionals trained to provide secure services in an efficient manner, the new centre offers:
• A Premium Lounge facility
• Doorstep delivery of passports
• SMS notifications on application status
• Online tracking of application status
• A dedicated website for easy access to end-to-end information including visa categories, requirements, document checklists and applicable fees
• A dedicated contact centre and email support to answer queries and track application status