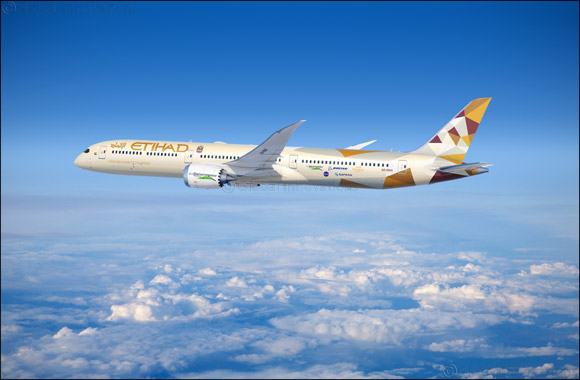 Abu Dhabi, United Arab Emirates, August 26, 2020:
Interviews are available with Etihad executives to discuss the Etihad / Boeing strategic partnership and ecoDemonstrator collaboration, as well as Etihad's wider sustainability agenda:
• Etihad is delivering on its commitment for its Boeing 787 Dreamliner to be a test-bed to accelerate technology development making aviation safer and more sustainable now and into the future
• The ecoDemonstrator, and at a broader level Etihad's Greenliner programmer, is an Industry-leading strategic partnership focused on innovation, collaboration and corporate/consumer engagement to minimise the impact of climate change
• Through these initiatives Etihad unites industry-wide sustainability action to responsible aviation as sustainable corporate leaders
• Etihad leads the industry in creating, testing and implementing technologies that make travel safer, more sustainable, more enjoyable and with passenger wellness as the priority.
• Partnerships between Etihad and the industry, including this program with Boeing, accelerate technology development through collaboration and shared learnings.
Etihad's contribution to Mobile UV disinfecting wand
• Etihad has been an early adopter of testing this technology and partnered with Boeing in April; right now this prototype is being tested on Etihad's 787 Dreamliner ecoDemonstrator
• In fact, Etihad carried out in-service trials with an earlier prototype on the Etihad's 787, 777 and A320 aircraft - providing valuable feedback for the second generation prototype which is now being tested on Boeing's ecoDemonstrator prior to eventual deployment in the operational environments
• The collaboration on the ecoDemonstrator is an element of Boeing and Etihad's ongoing partnership to test various technologies to make aviation safer and more sustainable now and for the future
Available spokesperson for interviews:
• Mohammad Al Bulooki, Etihad Airways Chief Operating Officer
Quotes:
Comment attributable to Mohammad Al Bulooki, Etihad Airways Chief Operating Officer:
"Etihad participating in the ecoDemonstrator programme builds on our core innovation and sustainability tenets while supporting the research and development of our partners to bring innovation from the laboratory to a real world testing environment.
"By choosing to take part in this programme we are proud to work with the likes of Boeing, NASA and Safran to test cutting-edge technologies and explore "blue sky" opportunities to improve airspace efficiency, reduce fuel use, lower noise for the community and cut CO2 emissions."
The 2020 ecoDemonstrator programme on the 787-10 Dreamliner will conduct extensive sound measurements. These will validate community noise prediction processes and the noise reduction potential of a landing gear modified for quieter operations. These technologies will significantly contribute to how the industry lowers noise levels for communities located near airports. In addition, a flight will be conducted during which pilots, air traffic controllers and an airline's operations center will simultaneously share digital information to optimise routing efficiency, reducing fuel and community noise. Test flights will be flown on a blend of sustainable fuel, which significantly lowers aviation's environmental footprint. This allows Etihad and Boeing to continue to learn and evaluate the performance of Sustainable Aviation Fuels on operational flights.
"Sustainability remains a priority for Etihad in spite of the current Covid19 crisis and this is just one initiative we've taken since the start of the pandemic to continue our drive for sustainable aviation. As far as Etihad is concerned, environmental sustainability shouldn't be an option or fair weather project to be shelved when it's not convenient against other challenges.
"Like the ecoDemonstrator, this initiative really speaks to the importance of industry collaboration and was done working with multiple Air Navigation Service Providers and airport authorities to deliver lower fuel consumption, noise and emissions.
"It's also worth noting that during the grounding of our scheduled passenger flights, Etihad tested and implemented single-engine taxi-in on our Boeing 787 with the aircraft's auxiliary power unit turned off for as long as practical, resulting in reduced fuel usage, noise and emissions.
"We at Etihad are committed to sustainable development in aviation in line with the vision of Abu Dhabi and the UAE and we believe addressing aviation's emissions is a challenge for the industry. As a prime example of industry collaboration towards sustainable aviation and innovation, the ecoDemonstrator programme is a unique opportunity to lead the aviation industry's drive for a sustainable future."