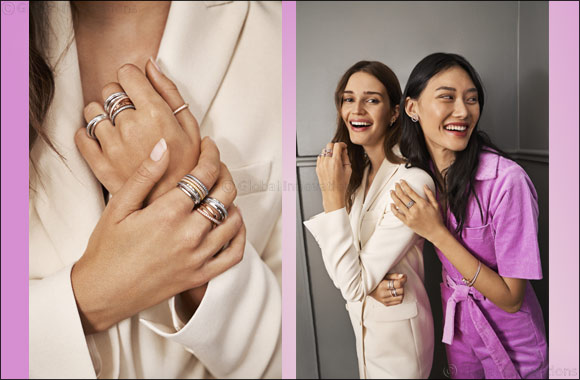 August 13, 2020: This year Pandora has celebrated 20 years of storytelling through jewellery and next month our Pandora Moments charm bracelet will stand in the spotlight as the ultimate style tool for self-expression.
Defining your signature style is a powerful way to creatively express yourself and and a part of Pandora's DNA.
The Pandora Signature collection takes centre stage in August, with new pieces a fresh take on beloved Pandora design elements such as the Pandora logo, cut-out hearts and sparkling pavé, combined with geometric details and exceptional craftsmanship.
Inspired by the designs of winding staircases, futuristic buildings and gravity-defying sculp-tures, the pieces are made to be your chic, effortless everyday style staples.
Featuring cut-out
hearts and pavé,
adjustable sterling silver
T-bar necklaces offer
endless styling options.
Contrasting circle sizes in the Pavé Double Hoop Earrings create a layered, multidimensional effect.

The Pandora Moments charm bracelet celebrates 20 years of helping fans tell their stories in 2020. Now is the perfect time to wear your brand love with detailed and super stylish charms like the Sparkling Pavé Crown O Dangle Charm in Pandora Rose (14k gold-plated unique metal blend).
#SomethingAboutYou
The architectural details in the Crossover Pavé Triple Band Ring are created with unique hand-finished techniques and make a head-turning style statement.