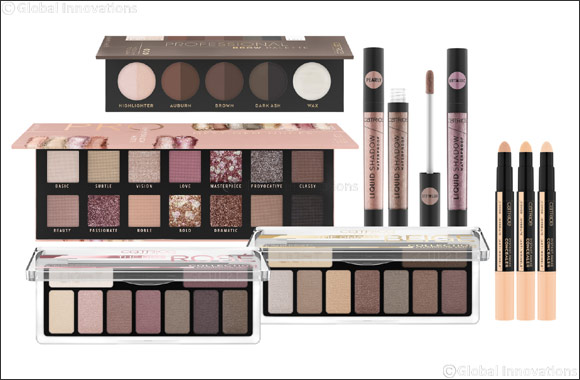 Dubai, United Arab Emirates, August 10, 2020: Are you looking for the next pro makeup brand out there? CATRICE is bringing you on-trend, diversified, high-quality products at the "just right" price point that will blow your mind and bring out the makeup artist in you. Whether you opt for a statement look or a summertime dewy and radiant look, CATRICE will have the product for you.

This season, CATRICE has brought you products that focus on accentuating every beauty's natural look, products that are unbeatable with durability, and products that are so textured, pigmented and vibrant.

We will be giving you a sneak peak of what CATRICE has in-store for you this summer.

A fresh face makes a huge difference when makeup is applied, that's why CATRICE is introducing the "INSTANT AWAKE CONCEALER" that will not only offer you a fresh and smooth but also a natural matte finish. The coverage is buildable according to taste and look you are opting for. High-quality, nourishing & moisturizing ingredients, guarantee an anti-wrinkle effect and visibly reduce small lines.

What about your eyebrows? Some ladies like the "au naturel" look, and some like them more defined. Regardless of which look you are into, the "PROFFESSIONAL BROW PALETTE" will do the trick with multiple shades that you can choose from. Hair-like strokes or bold and defined, take your pick!

This collection also has a few surprise eyeshadows for you. If waterproof "liquid shadow" is your pick, you will find your favorite shades of matte, pearly, and metallics that won't ever crease! Nudes, pinks, and transition shades are also available in the two gorgeous collection palettes, "THE SMART BEIGE" & "THE DRY ROSÉ". Last but not least, you will also be able to get your hands on the "PRO NEXT-GEN NUDES EARTH SLIM" palette with highly pigmented, intense colors, and bold shades to achieve a pro-look for your ladies night out.

The collection consists of many more surprise elements that we can't wait to share with you, stay tuned for more!

CATRICE is "Proudly People & Planet Friendly" – a credo, which stands for "worry-free" cosmetics and passion for makeup.