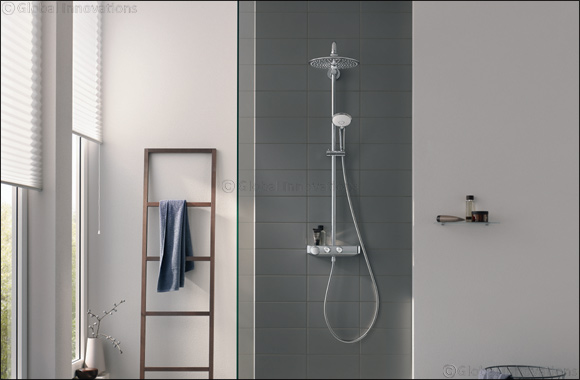 I used the GROHE Euphoria 260 Shower System and here's what happened: Upon arrival, I was drawn to the sleek design and the beautiful chrome finish. I couldn't wait to have it installed so we could finally experience the magic.
After coronavirus hit Dubai, my monthly trips to the spa came to a halt. I never expected to find anything to replace this until I tried this GROHE shower system. The product has one main shower head followed by another shower handset that rests under the main head. You have the option to pre-set the temperature and pressure of the shower. Moreover, the GROHE TurboStat ® technology allows the system to maintain the temperature even when the pressure of the water changes. This feature allows you to have the perfect spa experience from the comfort of your own home.
The main shower head has different spray settings: rain spray (that feels like summer rain on your skin), Jet spray (a higher pressure to help you feel revitalized after a long day), the smart rain spray (this allows to run the shower in an eco-mode to save water), and last but not the least, the Dream spray (that make the perfect conditions for an enjoyable and luxurious shower). Alongside adjusting the spray, you can also adjust the power and width of the water stream. The presence of these different settings was a particularly attractive feature.
The perfectly adjusted shower head gives you the perfect experience needed to start or end your day. The spray gives a gentle massage to your head and neck, allowing you to destress.
People take roughly 8 showers a week in the middle east, that is approximately 416 showers a year! This luxurious shower system by GROHE really is the perfect way to treat yourself this summer!