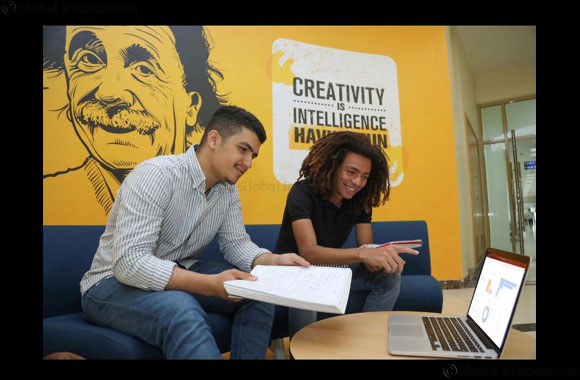 Ajman-UAE: June 17, 2020 – It seems that Ajman University's (AU) journey to the top will never come to a stop, while the 'make it happen' spirit is thriving in every nook and corner, whether on or off-campus.
Despite the global challenges associated with Covid-19, the Accounting Program in the College of Business Administration (CBA) has received the CIMA accreditation; the second international recognition of the same program in less than a month.
"Graduating from a CIMA-accredited program indicates a globally respected and benchmarked quality of accountancy knowledge," said AU Chancellor Karim Seghir. "Students with these credentials are highly regarded by employers around the world for their qualifications."
The Chartered Institute of Management Accountants (CIMA), the world's leading and largest professional body of management accountants, helps individuals and businesses succeed by harnessing the full power of management accounting – not just accounting for the balance sheet, but accounting for business.
Dr. Ibrahim Elsiddig, Head of Accounting Department, CBA, said CIMA provides students with testimonials about careers as finance professionals and support them through their journey from university students to employment.
"The benefits of having an accelerated route for AU students and graduates to the CIMA professional qualification are vast. They are provided with the best chance of passing the examinations and progressing quickly through their careers."
Students and graduates from Ajman University Accounting Program are exempted from 50% of the papers, he added. "They only need to complete the last two levels (Management and Strategic) to be CIMA holders even during their study."
Late in May this year, the AU Accounting Program earned accreditation from CPA Australia (Certified Practicing Accountant). AU is now one of only two UAE-based universities – in addition to four foreign universities with UAE branches – to earn CPA accreditation. Regionally, only one institution in Saudi Arabia and one in Qatar have met the same strict requirements.
In 2019, the AU Accounting Program was accredited by the Association of Chartered Certified Accountants (ACCA). A global professional body issuing highly respected and valued international qualifications in business, the ACCA is recognized by member states of the European Union and the United Nations.