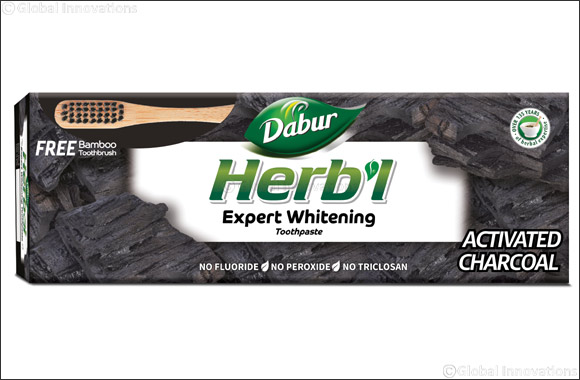 Dubai, United Arab Emirates, June 11, 2020: Dabur has launched an innovative toothpaste with the time-tested benefits of activated charcoal combined with ginger, long and black pepper extracts. The new Dabur Herb'l Toothpaste provides expert whitening.
Activated Charcoal has a long and proven history as a powerful and effective ingredient to aid oral care. It has natural binding adhesive qualities that binds to stains on the teeth and helps reduce it while brushing your teeth. Dabur Herb'l Expert Whitening Toothpaste is further enriched with herbal ingredients Ginger, which helps manage gum problems and Black Pepper, which is known to help protect teeth from decay.
"Dabur Herb'l Expert Whitening Toothpaste with Activated Charcoal is the newest addition to Dabur's oral care portfolio. It does not have fluoride, peroxide or triclosan and is instead enriched with natural and herbal ingredients to give a naturally healthy smile,' says Dhruv Sharma, Category Head, Dabur Oral Care.
Vineet Jain, Marketing Head, added: 'Dabur, through its over 135-years rich experience and heritage strives towards developing products in conjunction with the latest advancements in science, yet firmly rooted in natural remedies and solutions to enrich the lives of its consumers. The launch of Dabur Herb'l Expert Whitening Toothpaste with Activated Charcoal is a continuation of this journey."
Also complimentary with the pack, is an environment friendly bamboo toothbrush, which is safe and oral friendly to use. It has soft bristles for easy contact with the teeth.
New Dabur Herb'l Expert Whitening toothpaste with activated charcoal is available in most supermarkets in the UAE at AED 12 for 150 grams. The new herbal toothpaste is also available from online retailers like Amazon.