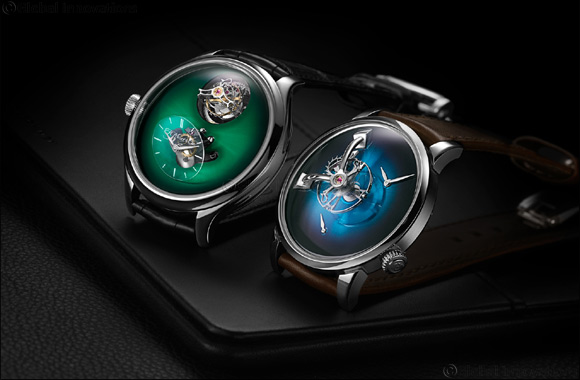 Dubai, United Arab Emirates, June 04, 2020: In this crowning expression of the ties binding H. Moser & Cie. and MB&F for more than ten years, Edouard Meylan and Maximilian Büsser have composed a duet recital in the form of an exceptional concerto for devotees of fine watchmaking. For the first time in its history, MB&F is contributing to a Performance Art endeavour flowing in both directions in an entirely reciprocal manner. Within this framework, the two Maisons are co-signing a pair of creations whose DNA blends the main characteristics of each. A story of friendship between two men against a backdrop of shared values, for the pleasure of building and sharing, and then of jointly presenting the results of this extraordinary project.

PROJECT ORIGINS
H. Moser & Cie. and MB&F are both independent, human-scale Swiss companies. They are run by two passionate personalities, longstanding acquaintances who both appreciate and respect each other on both a personal and professional level. The brands have in fact been working together for more than ten years, with Precision Engineering AG – a sister company of H. Moser & Cie. – notably supplying MB&F's balance springs. It is therefore not surprising that MB&F asked Edouard Meylan to take part as a 'friend' to help create a Performance Art Piece. The latest aspect of this collaboration lies in its being a two-way street. Maximilian Büsser says: 'When I called Edouard to tell him that I wanted to collaborate on a creation, I mentioned that I really liked the double balance-spring, the Moser fumé dials and the Concept watch series. Edouard immediately told me that he would let me borrow these features, but on condition that he could also reinterpret one of my machines.
After an initial moment of surprise, I gave it some thought. Being 50% Indian and 50% Swiss, I am firmly convinced that mixing DNA creates interesting results, so why not try the experiment in watchmaking? I therefore agreed and suggested the FlyingT model, which is particularly dear to my heart." In a spirit of sharing and openness, while cultivating the notion of strength in unity, H. Moser & Cie. and MB&F have thus jointly created two models, available in several versions and issued in 15-piece limited series. This number is a nod to the 15th anniversary of MB&F as well as honouring the 15th anniversary of the relaunch of H. Moser & Cie. By pooling their strengths, these two competing yet friendly brands are working to harness the combined strengths of talented artisans, entirely in keeping with the philosophy adopted by MB&F.
LM101 MB&F X H. MOSER
The Legacy Machine 101 distils the very quintessence of mechanical watchmaking: the balance wheel, the power reserve and the passing of time. It is therefore no coincidence that MB&F has chosen to revisit this model – one of the purest and 'simplest' in its collection – since it is indeed minimalism that guided the creation of the LM101 MB&F x H. Moser model. Like H. Moser & Cie. and the "back to basics" approach embodied in its Concept watch series, MB&F has chosen to remove its logo and return to its roots and indeed to the very origins of horology, when only the movements were signed. In the same understated spirit, it has abandoned the floating domed subdials to display the hours and minutes as well as the 45-hour power reserve by means of hands placed directly on the main dial. The fumé dials borrowed from H. Moser & Cie. can thus be expressed in complete freedom, also enhanced by a refined bezel. Four fumé dials have been chosen for the LM101 MB&F x H. Moser: Red fumé, Cosmic Green fumé, Aqua Blue fumé and, of course, the famous Funky Blue fumé. Topped with a domed sapphire crystal, the case is made of steel, for only the third time in the history of MB&F.
The mesmerising large suspended balance wheel continues to take centre stage, albeit completely redesigned on the LM101 MB&F x H. Moser in order to highlight the beauty of the fumé dials. This beating heart, which represents the quintessence of watchmaking in the eyes of Maximilian Büsser, has been fitted with a double balance spring produced by Precision Engineering AG. Thanks to this pair of matching balance springs, the displacement of the point of gravity undergone by each spring as it expands is corrected, significantly improving precision and isochronism in a continuous quest for perfection. In addition, the paired balance springs also reduce the friction effect normally encountered with a single balance spring, resulting in optimised isochronism. Through the case back, the curved sapphire crystal reveals the 'engine' driving this timepiece. Unlike the base movement of the Legacy Machine 101, of which the finishes were determined by co-creator Kari Voutilainen, the aesthetics of the calibre that powers the LM101 MB&F x H. Moser is more contemporary, with a subtle NAC treatment to enhance its beauty.

ENDEAVOUR CYLINDRICAL TOURBILLON H. MOSER X MB&F
H. Moser & Cie. has borrowed from MB&F the concept of three-dimensional movements, a strong element of the Geneva Maison's identity, protected by a sapphire dome and featuring a one-minute flying tourbillon that rises above the main dial through a ventricular opening appearing at 12 o'clock. Benefiting from the expertise of its sister company Precision Engineering AG, H. Moser & Cie. has equipped its tourbillon with a cylindrical balance spring, the same as that developed by Precision Engineering AG for MB&F's LM Thunderdome. Invented in the 18th century, the cylindrical balance spring is reminiscent of a worm- or corkscrew, rising perpendicularly around the upper rod of the balance staff. Commonly used in historical marine chronometers at the time, it offers the advantage of developing concentrically, and therefore geometrically, since it works perfectly along the axis of its pivots. This gives it a significant advantage over the flat balance spring, whose opposite ends tend to exert forces on the pivots, despite the Philips or Breguet terminal curves which were specifically developed to partially correct the non-concentric opening of the balance spring. Fitted with a Breguet overcoil at both attachment points, the cylindrical balance spring reduces pivot friction and greatly improves isochronism. Due to its specific shape, the cylindrical balance spring is far more difficult to produce and takes ten times longer to make than a traditional balance spring.
Another reference to MB&F's identity lies in the tilted dials, which H Moser & Cie. has adopted for its hour and minute subdials. These are inclined at 40° so that the owner of the watch is the only one to whom it reveals the secret of time, and mounted on a conical gear train ensuring optimal torque transmission from one plane to the other. As Edouard Meylan explains: 'We have Moserized the MB&F universe by developing a sapphire subdial, which melts into the background so as to highlight the beauty of our fumé dials. And to preserve the purity and elegance of this true work of horological art, we have inscribed our logo like a watermark on the sapphire subdial, thereby underlining the personal character and intimate relationship binding it to its owner'. Available in five different versions, the Endeavour Cylindrical Tourbillon H. Moser x MB&F model comes in a steel case topped by Funky Blue, Cosmic Green, Burgundy, Off-White or Ice Blue dials, all of the fumé variety.

FRUITFUL COOPERATION
Edouard Meylan and Maximilian Büsser are delighted with this rewarding collaborative project, which has achieved results far exceeding their expectations. In addition to the beauty of the models created in tandem, two bodies of expertise and two sets of DNA have been blended and mutually enriched. The two different communities of the two Maisons have also pooled their skills in a wonderful spirit of openness and transparency. This experience leaves Edouard and Maximilian with a keen sense of coming back to a sense of pleasure: the pleasure of working together and of creating.

TECHNICAL SPECIFICATIONS
LM101 MB&F X H. MOSER
LM101 MB&F x H. Moser is available in 4 limited editions of 15 pieces in stainless steel: Funky Blue fumé dial, Cosmic Green fumé dial, Red fumé dial and a special edition with Aqua Blue fumé dial made for the retailer Ahmed Seddiqi & Sons.
Engine
Three-dimensional horological movement developed in-house by MB&F
Movement aesthetics and finishing specifications: Kari Voutilainen
Manual winding with single mainspring barrel
Power reserve: 45 hours
Balance wheel: Bespoke 14mm balance wheel with four traditional regulating screws floating above the movement
Balance spring: Straumann® double hairspring
Balance frequency: 18,000bph/2.5Hz
221 components
23 jewels
Chatons: gold chatons with polished countersinks
Fine finishing: superlative 19th century-style hand finishing throughout; internal bevel angles highlighting hand craft; polished bevels; Geneva waves; hand-made engravings, NAC black bridges
Functions
Hours, minutes and power reserve indicator
Large balance wheel suspended above the dial
Case
Available in 4 limited editions of 15 pieces in stainless steel 316, including a special edition with Aqua Blue fumé dial made for the retailer Ahmed Seddiqi & Sons.
Diameter: 40.0 mm
Height: 16.0 mm
35 components
High domed crystal sapphire on top and box sapphire crystal on back, both with anti-reflective coating on both sides
Dial
Funky Blue fumé, Cosmic Green fumé, Red fumé or Aqua Blue fumé with sunburst pattern
Strap
Hand-stitched calfskin strap
Steel 316L and titanium folding buckle
TECHNICAL SPECIFICATIONS
ENDEAVOUR CYLINDRICAL TOURBILLON H. MOSER X MB&F
Endeavour cylindrical tourbillon H. Moser x MB&F is available in 5 limited editions of 15 pieces each in stainless steel: Funky Blue fumé dial, Cosmic Green fumé dial, Burgundy fumé dial, Off-White fumé dial and Ice Blue dial.
Case
Steel topped by a high domed sapphire crystal
Diameter: 42.0 mm
Height: 19.5 mm
Height without crystal sapphire: 9.4 mm
Crown at 9 o'clock, engraved with a "M"
See-through sapphire crystal case back
Dial
Main dial: Funky Blue fumé, Burgundy fumé, Cosmic Green fumé, Off-White fumé or Ice Blue fumé with sunburst pattern
Hours and the minutes displayed on a 40° vertically tilted sapphire dial at 6 o'clock
Leaf-shaped hour and minute hands, blued on the reference 1810-1203
Movement
HMC 810 three-dimensional automatic Manufacture calibre
Diameter: 32.0 mm or 14 1/4 lignes
Height: 5.5 mm
Frequency: 21,600 vibrations/hour
29 jewels
184 components
Automatic bi-directional pawl winding system
Oscillating weight in 18-carat gold with engraved H. Moser & Cie. logo
Power reserve: minimum 72 hours
Cylindrical hairspring
One-minute flying tourbillon at 12 o'clock with skeletonised bridges
Functions
Hours and minutes
Strap
Hand-stitched black alligator leather
Steel folding buckle engraved with the Moser logo
H. MOSER & CIE.
H. Moser & Cie. was created by Heinrich Moser in 1828. Based in Neuhausen am Rheinfall, it currently employs around 60 people, has developed 14 in-house calibres to date and produces more than 1,500 watches per annum. Through its sister company Precision Engineering AG (PEAG), H. Moser & Cie. manufactures parts such as regulating organs and balance-springs, which are used for its own production as well as to supply its partner companies. Independent company incorporated into Moser Watch Holding in 2012, Precision Engineering AG specialises in watch components for escapements, from their initial design to the production of a quality product ready to be integrated into the watch movement it must regulate. H. Moser & Cie. is honoured to have a Moser family member with the company as Honorary Chairman and President of the Heinrich and Henri Moser Foundation. The aim of the Moser Foundation, created by one of Heinrich Moser's descendants, is to keep the family history alive and seek out antique pieces for the Moser Museum, located in Charlottenfels Manor, Heinrich Moser's family home. With its substantial watchmaking expertise and highly acclaimed experience in the sector, MELB Holding holds shares in H. Moser & Cie. and Hautlence. MELB Holding is an independent family group, based in the heart of the legendary Vallée de Joux.
'FRIENDS' RESPONSIBLE FOR
LEGACY MACHINE 101 MB&F X H. MOSER

Concept: Maximilian Büsser / MB&F and Edouard Meylan / H. Moser & Cie.
Product design: Eric Giroud / Through the Looking Glass and H. Moser & Cie.
Technical and production management: Serge Kriknoff / MB&F and H. Moser & Cie.
Movement design and finish specifications: Kari Voutilainen
R&D: Simon Brette and Thomas Lorenzato / MB&F, H. Moser & Cie.
Wheels and profile-turning: Jean-François Mojon / Chronode, Paul André Tendon / Bandi, Alain Pellet / Elefil Swiss, Patrice Parietti / MPS Micro Precision System, Daniel Gumy / Decobar and Le temps retrouvé
Double hairspring: Andreas Kurt / Precision Engineering
Stud and balance wheel bridge: Marc Bolis / 2B8 and Benjamin Signoud / AMECAP
Barrel: Stefan Schwab / Schwab-Feller
Plates and bridges: Alain Lemarchand and Jean-Baptiste Pretot / MB&F, Rodrigue Baume / HorloFab
Hand-finishing of movement components: Jacques-Adrien Rochat and Denis Garcia / C-L Rochat
Movement assemblage: Didier Dumas, Georges Veisy, Anne Guiter, Henri Porteboeuf and Emmanuel Maitre / MB&F
After-sales service: Thomas Imberti / MB&F
Quality Control: Cyril Fallet / MB&F
Case: Alain Lemarchand and Jean-Baptiste Pretot / MB&F
Case decoration: Bripoli
Buckle: G&F Châtelain
Fumé dial: Someco, Virginie Duval and Hassan Chaïba / Les Ateliers d'Hermès Horloger
Crown and corrector: Cheval Frères
Hands: Waeber HMS
Glass: Martin Stettler / Stettler
Strap: Multicuirs
Presentation box: Olivier Berthon / Soixante et onze
Production logistics: David Lamy and Isabel Ortega / MB&F
Marketing & Communication: Charris Yadigaroglou, Virginie Toral and Arnaud Légeret / MB&F
M.A.D.Gallery: Hervé Estienne and Juliette Duru / MB&F
Sales: Thibault Verdonckt, Virginie Marchon and Jean-Marc Bories / MB&F
Graphic design: Samuel Pasquier / MB&F, Adrien Schulz and Gilles Bondallaz / Z+Z
Product photography: Venzin+Buehler Fotografen
Portrait photography: Régis Golay / Federal
Website: Stéphane Balet / Nord Magnétique, Victor Rodriguez and Mathias Muntz / Nimeo
Film: Marc-André Deschoux / MAD LUX
Texts: Nathalie Cobos-Crausaz / Comm'On
MB&F – GENESIS OF A CONCEPT LABORATORY
Founded in 2005, MB&F is the world's first-ever horological concept laboratory. With almost 20 remarkable calibres forming the base of the critically acclaimed Horological and Legacy Machines, MB&F is continuing to follow Founder and Creative Director Maximilian Büsser's vision of creating 3-D kinetic art by deconstructing traditional watchmaking.
After 15 years managing prestigious watch brands, Maximilian Büsser resigned from his Managing Director position at Harry Winston in 2005 to create MB&F – Maximilian Büsser & Friends. MB&F is an artistic and micro-engineering laboratory dedicated to designing and crafting small series of radical concept watches by bringing together talented horological professionals that Büsser both respects and enjoys working with.
In 2007, MB&F unveiled its first Horological Machine, HM1. HM1's sculptured, three-dimensional case and beautifully finished engine (movement) set the standard for the idiosyncratic Horological Machines that have followed – all Machines that tell the time, rather than Machines to tell the time. The Horological Machines have explored space (HM2, HM3, HM6), the sky (HM4, HM9), the road (HM5, HMX, HM8) and the animal kingdom (HM7, HM10).
In 2011, MB&F launched its round-cased Legacy Machine collection. These more classical pieces – classical for MB&F, that is – pay tribute to nineteenth-century watchmaking excellence by reinterpreting complications from the great horological innovators of yesteryear to create contemporary objets d'art. LM1 and LM2 were followed by LM101, the first MB&F Machine to feature a movement developed entirely in-house. LM Perpetual, LM Split Escapement and LM Thunderdome broadened the collection further. 2019 marked a turning point with the creation of the first MB&F Machine dedicated to women: LM FlyingT. MB&F generally alternates between launching contemporary, resolutely unconventional Horological Machines and historically inspired Legacy Machines.
As the F stands for Friends, it was only natural for MB&F to develop collaborations with artists, watchmakers, designers and manufacturers they admire.
This brought about two new categories: Performance Art and Co-creations. While Performance Art pieces are MB&F machines revisited by external creative talent, Co-creations are not wristwatches but other types of machines, engineered and crafted by unique Swiss Manufactures from MB&F ideas and designs. Many of these Co-creations, such as the clocks created with L'Epée 1839, tell the time while collaborations with Reuge and Caran d'Ache generated other forms of mechanical art.
To give all these machines an appropriate platform, Büsser had the idea of placing them in an art gallery alongside various forms of mechanical art created by other artists, rather than in a traditional storefront. This brought about the creation of the first MB&F M.A.D.Gallery (M.A.D. stands for Mechanical Art Devices) in Geneva, which would later be followed by M.A.D.Galleries in Taipei, Dubai and Hong Kong.
There have been distinguished accolades reminding us of the innovative nature of MB&F's journey so far. To name a few, there have been no less than 5 Grand Prix awards from the famous Grand Prix d'Horlogerie de Genève: in 2019, the prize for Best Ladies Complication went to the LM FlyingT, in 2016, LM Perpetual won the Best Calendar Watch award; in 2012, Legacy Machine No.1 was awarded both the Public Prize (voted for by horology fans) and the Best Men's Watch Prize (voted for by the professional jury). In 2010, MB&F won Best Concept and Design Watch for the HM4 Thunderbolt. In 2015 MB&F received a Red Dot: Best of the Best award – the top prize at the international Red Dot Awards – for the HM6 Space Pirate.