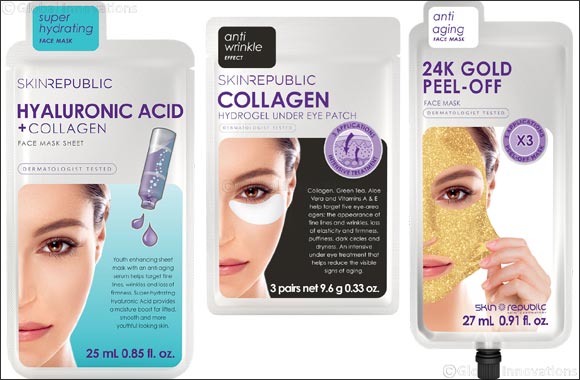 ** Skin Republic's Salon Worthy Facial Guide **
Dubai, United Arab Emirates, June 02, 2020: While we are all home safe, now is the perfect time to treat yourself to an at-home facial. The experts at Skin Republic HQ have put together this simple 5 step at-home facial routine which feels almost as good as the real thing. So, select your ultimate chillout playlist, put on your fluffiest robe, light that fancy scented candle and get ready for glowing bouncy skin.
Step 1: Double Cleanse
When starting any facial this should be the first step. It's important to remove all traces of make-up so your skin can absorb ingredients more efficiently. If you're skipping on make-up at the moment you should still cleanse to remove any oil build up from the day.
First cleanse with an oil-based make-up remover followed by a cream (if your skin is dry) or a foam-based cleanser (if your skin is on the oily side). Focus on the areas where you experience breakouts and get into those nooks and crannies. Make sure you get a nice lather going and rinse off well.
Step 2: Exfoliate
Exfoliation, the tight rope of skin care. Too much and your skin can be left sore and inflamed, too little and your skin feels congested and dry. It's best to exfoliate a maximum of twice per week. For serious exfoliation, try the Skin Republic 24K Gold Peel-Off Face Mask. This mask dries and becomes tight removing dirt, oil and dead skin cells as it is peeled off.
Many dry skin sufferers avoid exfoliants as they feel it will make their skin drier. This isn't true! Skipping on exfoliating can actually make your skin drier. The dead, dry skin cells clog the upper layers of the skin preventing ingredients from penetrating and hydrating. Exfoliation is also great for removing those rough, dry patches.
Step 3: Skin the extractions
Just don't do it. Picking and squeezing can lead to permanent scars so skip the extractions rather consult a professional.
Step 4: Mask it
Now that your skin is squeaky clean and super-soft it's time to put back the moisture. Skin Republic Sheet Masks are saturated with 25ml of serum making them super-hydrating. There is also enough serum to apply to your neck and décolletage – which we often forget to do.
Each mask contains different active ingredients to target different skin concerns. The bottom line? Skin Republic has a mask for pretty much every skin concern. Apply the mask and relax for 15 minutes. To help ingredients penetrate deeper into the skin or to improve skin firmness you can gently use a jade roller or give yourself a facial massage. Remember not to rinse off that skin-loving serum! If your skin is feeling like a little more hydration you can apply your regular moisturiser after the mask.
Step 5: The eye mask
No facial would be complete without applying a hydrating under eye mask. Applied directly under the eye and worn for up to 20 minutes eye masks provide a concentrated and continuous dose to the delicate under eye area. More effective than creams, eye masks also don't require any tapping or rubbing to apply which can lead to worsening of your under-eye issues. Skin Republic has several eye masks focusing on different concerns from dark circles, puffiness, loss of firmness, fine lines and dryness. Pro tip: Pop them in the fridge before using for an extra depuffing effect.