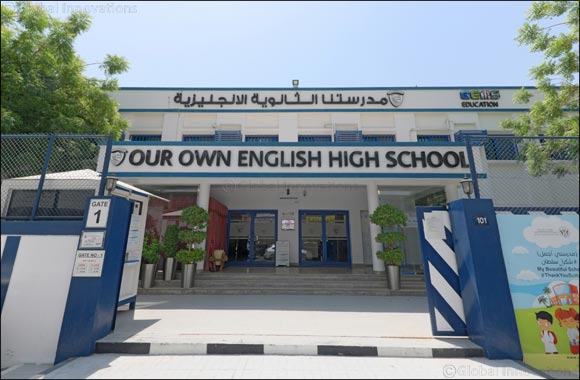 • GEMS Our Own English High School Sharjah – Girls tops 'Outstanding Schools' category for providing an enriching environment for students to achieve excellence
• GEMS Our Own English High School Sharjah – Boys placed second in 'Outstanding Schools' category and sees one of its students named 'Most Distinguished and Excellent Student'
• GEMS Millennium School – Sharjah student also recognised with 'Most Distinguished and Excellent Student' award
Dubai, United Arab Emirates, June 01, 2020: Three GEMS Education schools were recognised in this year's prestigious Sharjah Award for Excellence and Educational Excellence. GEMS Our Own English High School Sharjah – Girls (OOS) placed first in the 'Outstanding Schools' category, followed by GEMS Our Own High School – Boys (OOB) in second place. In addition, OOB saw one of its students, Gaurav Jayaprakash, receive the 'Most Distinguished and Excellent Student' award, while another GEMS student, Anupama Avarankunnathu Padincharethil from GEMS Millennium School – Sharjah (GMS), was also recognised with the same award.
Results of the Sharjah Award for Excellence and Educational Excellence were announced virtually on 19 May 2020. The award was established under the patronage of His Highness Sheikh Sultan bin Muhammed Al Qasimi, Supreme Council Member and Ruler of Sharjah, with the aim of recognising outstanding achievers in academics and co-curricular activities, with specific emphasis on leadership and innovation.
Asma Gilani, Principal and CEO of Our Own English High School Sharjah – Girls, said: "The award is an external validation of the dedication and commitment of our team and the drive for excellence that motivates the students, teachers and parents of Our Own English High School Sharjah – Girls. We take immense pride in being part of GEMS Education, which works on trust and believes in providing freedom to leaders to innovate and excel in their own natural way. The award validates all our efforts and endeavours in sustaining excellence at our school. It will enhance the school's reputation in the educational landscape of the UAE and motivate us to do even better."
OOS had already received a string accolades since 2013, including The Khalifa Award for Education 2012-13 in the 'Educational and Institution Performance' category, The Green Flag Award for four consecutive years from 2015 for promoting sustainable development through environmental education, and The Sheikh Hamdan Bin Rashid Al Maktoum Award for Distinguished Academic Performance in the 'Outstanding School and Administration' category in 2016-17.
Srivalsan Murugan, Principal and CEO of Our Own English High School Sharjah – Boys, said: "We are delighted to be recognised with this prestigious Award. As a school, we are humbled and reiterate our commitment to the cause of educating young people. We also acknowledge that we are part of GEMS Education, where we support and sustain each other, and we are grateful to our Chairman and our regulator, SPEA."
Recipient of the 'Most Distinguished and Excellent Student' award, OOB student Gaurav Jayaprakash said: "I am truly honoured. I believe winning is not the ultimate and we must always try our best in our attempts. We should be humble no matter what achievements we get and grateful to all those who helped us on the way."
Also a recipient of the 'Most Distinguished and Excellent Student' award, GMS student Anupama Avarankunnathu Padincharethil said: "This award has taught me that hard work always pays off if you put your heart and soul into it. I want to extend my sincere gratitude to His Highness Sheikh Sultan bin Mohammed Al-Qasimi, the Ruler of Sharjah, for instituting this award, because of which I am blessed with the opportunity to make my family and school proud. This recognition is an example of the great support that my family and my school have given me."