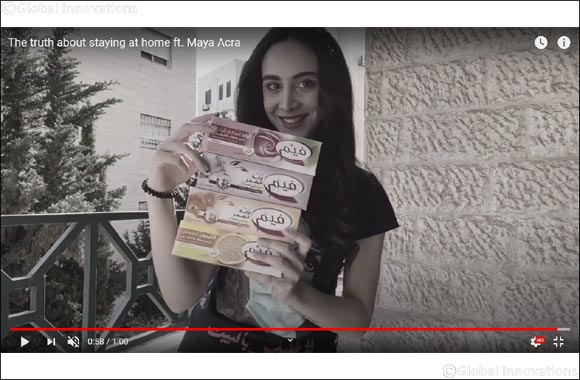 Dubai, UAE, May 31, 2020: Hair removal is not a topic that women talk about freely, even though it is part of every fashion-conscious Arab woman's life. To tackle the reluctance and taboo around the topic of depilation, FEM, a prominent brand in hair removal, has collaborated with Lebanese comedian and vlogger, Maya Acra to initiate conversation about hair removal issues women face, but hardly share with anyone. This is done through a series of fun, satirical videos where FEM does not shy away from self-deprecating humor; the recent campaigns are focused on hair removal in the time of social distancing. As more and more women are working from home, they are turning to DIY hair removal methods like the ones FEM offers through wax strips and hair removal creams for smooth silky hair-free skin.

Maya Acra addresses day to day issues women face, like being embarrassed if their facial hair is visible during a video call or being concerned about increased hair growth because they couldn't visit a salon during quarantine. However, they feel reluctant to share their problems with anyone. The campaign was created by FEM to make women comfortable with the topic of body hair removal and speak out about the issue that is an integral part of their lives.

According to Achyut Daga, Brand Manager, FEM, "It is considered to be a societal taboo for women to talk about body hair, and at FEM we want to normalize hair removal, because it is a necessity for personal hygiene. We want to engage with women about this common issue that all women face and, make it a fun and easy discussion for them. We have tied up with Maya, who through her unique comic style, addresses the topic of hair removal in the framework of her daily life through short videos. She addresses hair removal struggles in a humorous way making them relatable to women of all ages so that they become more comfortable discussing their hair removal routine. We also address the myth of hair removal being time consuming and messy in these videos. For instance, our hair removal cream works in just three minutes and leaves the user with smooth, hair-free skin without any pain."

Maya Acra takes hair removal struggles to the next level by making it 100 percent relatable for all women. In one of the videos, Maya Acra is seen getting excited at the prospect of a social gathering but then she looks at the hair on her hand and decides to postpone the meeting but she feels embarrassed to share the real reason behind her decision. In another video she is seen hesitating to do video calls as she has not taken care of unwanted facial hair growth while in quarantine, but she does not feel comfortable talking about it. She solves her problems with natural DIY hair removal methods, whether wax or cream, and she is ready to go about her daily life with silky smooth hair-free skin.
The new Fem and Maya Acra collaboration campaign is going viral on the internet hitting more than 12 million views since its start. The video's tagline where Maya Acra repeats the word "FEM" 15 times made the videos hilarious and popular.
Vineet Jain, Head of Marketing, added: "We are very happy to work with Maya, she understands what we are trying to do as a brand. We come up with ideas together on how to tackle hair removal struggles by making it relatable and make women of all ages comfortable with the topic."
With the help of FEM one can be completely hair-free and moisturized in a matter of just three minutes. For instance, Fem Aloe Vera Hair Removal Cream is formulated specially to remove hair gently and quickly while moisturizing the skin. The unique PH balancing lotion, that comes along with the hair removal cream, calms and soothes the skin post hair removal and leaves it feeling moisturized and loved.
Viewers can expect more videos this year from FEM with Maya Acra.