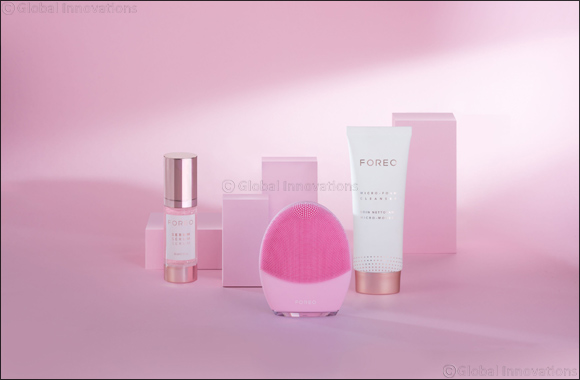 Dubai, United Arab Emirates, May 30, 2020: Working from home during the worldwide pandemic can be so stressful and this can have an impact on your health and skin. Whilst the current situation has its downfalls, it also has a positive, everyone now has way more time on their hands! Whilst it is not a competition to come out of quarantine the strongest, fittest and healthiest, it does create an opportunity to give your skin some extra love. After all, who doesn't want fresh and glowing complexion.
FOREO are here to provide some helpful tips and tricks on how to banish those stress-related blemishes, wrinkles and general problematic skin issues, off your face and instead, replace them with a vibrant complexion.
Try an at-home facial
If your skin is flaring up due to stress, there's nothing better than a calming facial to help soothe it. Whilst you can no longer book a relaxing treatment at the spa, FOREO have the perfect solution. Cue the UFO, a clever little beauty device which will bring the spa to you. The UFO is a smart mask treatment which uses Korean mask formulas for a decedent facial treatment in only 90-seconds. With seven different masks to choose from, you can pick a mask which will fix your skin problems, no matter the issue. With cooling and warming technology, the UFO ensures that you get the most out of every mask treatment. It's just like being at the spa except, you're safe at the comfort of your own bathroom!
Get enough sleep
Lack of sleep doesn't just give you dark circles around your eyes, it can lead to premature ageing, puffiness, dullness and inflammation. Our skin uses sleep to recover moisture and shed dead skin cells. Not enough sleep can mean your skin loses its natural 'glow' and may worsen any existing skin conditions you may have. Try FOREO's UFO activated Call It a Night mask. This night mask contains ginseng which is known to help tone and rejuvenate, for skin that looks younger and more luminous. Meaning that after using it, you'll wake up looking refreshed every single time. We know lockdown has changed most of our sleeping patterns, 2AM has suddenly become the new 10PM, but make sure you also get at least 7-9 hours of sleep each night to wake up looking as refreshed as Sleeping Beauty.
Take a break from work
Step away from your make-shift desk at home and take a break! If you have no Zoom meetings in the morning, take advantage of the fact that no one can see you and work whilst pampering your skin. Remember, once the clock hits 6PM you are done! You can easily make the mistake of letting work-time leak into your downtime. It's completely understandable, work and play now exist in the same space but remember, once you are done with work for the day, STEP AWAY FROM THAT LAPTOP.
Avoid junk food
Everyone has a hard time steering away from food that isn't necessarily the best for us, especially now that we are all now in VERY close proximity to the kitchen cupboards all day, every day. Unfortunately, junk food is never good for our bodies, skin included. Steer away from fried and processed foods, as well as too much sugar. If your skin suddenly flares up with blemishes, it may be time to look at your diet. Don't forget to hydrate and drink a lot of water.

Say bye to wrinkles!

Calm those face muscles. Normal day-to-day stress can leave permanent worry lines on our face, so imagine how those lines are developing at the moment! Try relaxing your face muscles as often as possible. Try the FOREO's LUNA 3. The back of the device offers the perfect firming massage with 4 different pre-programmed massage routines built into the FOREO app. Or, something as simple as placing a mirror next to your laptop (you can do this without fear of looking silly in the office, now you are working from home) can stop this problem, so that every time you catch yourself frowning at the screen, you remind yourself to stop!
The UFO and LUNA 3 is priced at AED 1000. The Call it a Night mask is priced at AED 55.