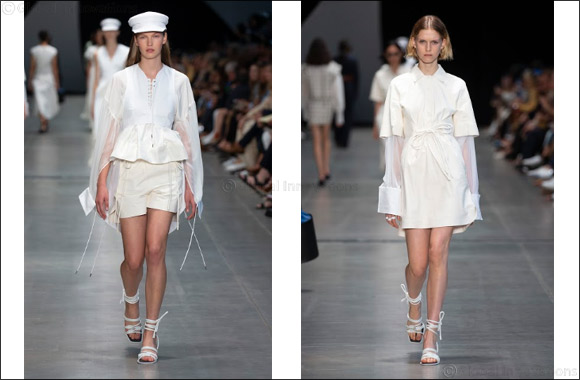 MOOD
La collezione SPORTMAX SS20 inizia con un viaggio con le vele spiegate al vento. Un senso di libertà e leggerezza ispirato dal lavoro dell'artista Daniel Wurtzel, noto soprattutto per le sue sculture e installazioni cinetiche. Opere che esprimono la completa armonia tra corpo e mente. La collezione è un potente mix tra femminilità neo-romantica e tailoring, da sempre nel DNA di SPORTMAX. I tessuti aerei, la forma delle vele, corde e cuciture definiscono nuove silhouette. Un codice estetico tra leggerezza, movimento e femminilità.
ATTITUDE
La collezione gioca sul contrasto tra i completi di derivazione sartoriale e la delicatezza delle bluse e degli abiti uniti o stampati in colori schiariti dal sole. Abiti dalle silhouette decise si caratterizzano per i volumi importanti e le trasparenze. Il drappeggio è reinterpretato per enfatizzare una femminilità ideale. Caftani e chemisier si portano con preziosi poncho o con top in maglia. Tailleur iper femminili in colori tenui. Pantaloni e gonne abbinati a camicie a fiori con maniche a sbuffo o a top segnati da catene ed elementi in pelle. Motivi floreali in colori sfumati sono trattati con un effetto glossy.
MATERIALI
Cotoni estivi a righe, jersey e georgette gommate, seta e pelle. Sovrapposizioni e contrasti tra materiali differenti, la pelle contamina l'abito fluido o le camicie leggere su colli e polsini. Motivi check realizzati con il sottile intreccio della pelle per sofisticati effetti grafici su gonne e top.
ACCESSORI
Completano gli outfit i sandali estivi con cordoncini, le sneaker dalle linee dinamiche e futuristiche, borse secchiello, cappellini sportivi e occhiali caratterizzati da forme e combinazioni di materiali inaspettati.
COLORI
Una palette di colori delavè e delicati: bianco, celeste, cuoio, nocciola, grigio, rosa tenue e verde chiaro.
MOOD
The SPORTMAX SS20 sets sails on a journey with a sense of freedom and levity inspired by the artist Daniel Wurtzel known for his large-scale kinetic sculptures and installations. Artworks which communicate a sensation that frees the body and soul.
The collection powerfully mixes neo-romantic femininity and Sportmax's signature interpretation of tailoring. The flying fabrics, the triangular shape of the sail, ropes and stitching define new silhouettes. The attitude of this aesthetic code turns around the idea of lightness, movement and femininity.
ATTITUDE
The collection plays with the contrasts between precise tailoring and the delicate fluidity of blouses and printed dresses in soft colors that appear to be faded by the sun. Fluid dresses in distinct silhouettes are characterized by important volumes and transparencies. Draping has been interpreted to emphasize an ideal femininity. Kaftans and shirt dresses are paired with knit ponchos or tops. The tailored suit is offered in feminine colors and soft fabrics, while pants and skirts are styled with puffy flower-print shirts or blouses with chains and leather band details. Floral prints in a hushed color palette are emphasized with a glossy effect.
MATERIALS
Summer cotton stripes, rubberized jersey and georgette, silk and leather. Mixing and layering of contrasting materials, the leather meets the fluid dress and the light shirts on necks and cuffs. Skirts and vests are constructed from a one-of-a-kind fabric made from woven leather that create a sophisticated graphic plaid, finished with a combination of both fringed edges and piped leather trim.
ACCESSORIES
The looks are accessorized with ankle-wrap sandals with rounded leather cords and high-performance futuristic sneakers, plus sporty leather caps, bucket bags and eyewear characterized by unexpected shapes and material combinations.
COLORS
A palette of faded, delicate colors: from white to light shades of greyish sky blue, dusty pink and sea foam green to the deeper cornflower blue and rich indigo.