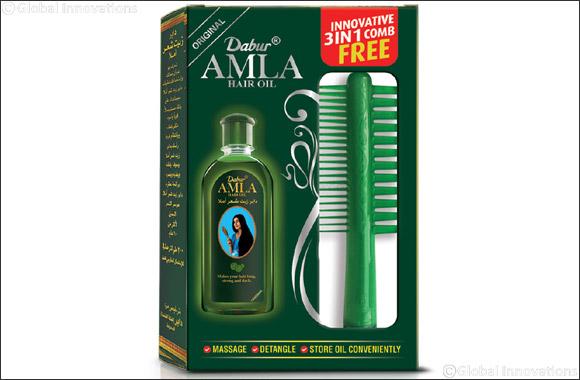 Dubai, UAE; April 14, 2020: Dabur Amla, GCC'S No.1 hair oil brand, has introduced an innovative way to make hair oiling convenient through a unique comb massager. This innovative comb comes free with Dabur Amla 500 ml pack for the consumers. The comb acts as an oil diffuser, massager as well as a detangler and has been applied for registration under Patent's Act.
The oil can be poured and stored efficiently in the comb. With the help of rolling balls attached to the comb, oil can be diffused effectively onto the scalp and then used for massaging with ease which is one of the innovative features of the product.

According to Rohit Jaiswal, COO, Dabur International: "In our continuous effort to innovate, we launched this modern comb that is convenient and non-messy to help our consumers enjoy a very relaxing oiling ritual."

He added: "The comb also encourages consumers to oil their hair more frequently. Dabur Amla oil with natural extracts of gooseberry, strengthens your hair and provides best nourishment from root to tip."
The 3-in-one comb has two sides, one is a detangler and the other acts as a massager. While one side detangles the hair strands, the other side has soft rolling balls through which oil diffuses onto the scalp and gently massaged. Oil can be easily filled and stored at the time of use through a screw cap at the bottom. A regulator knob helps to control the oil flow during scalp massage.
The whole process is accomplished in six easy steps:
Step 1: Open the cap at the bottom of comb, fill it with Dabur Amla Hair Oil and then close it
Step 2: Remove massager cap from the side teeth
Step 3: Turn the regulator knob [above the cap] in the right direction for oil to flow into massager balls
Step 4: Use massager to gently nourish the scalp and once the process is done, turn regulator knob back in left direction to lock the oil flow
Step 5: Use the other side of the comb to detangle oiled hair
Step 6: Finally put the massager cap [Step 2] back to avoid oil leak. The remaining oil is stored securely in the comb till next usage.