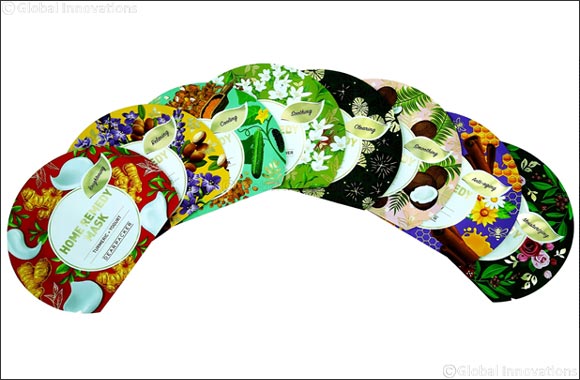 At-home facials have never been this friendly to the wallet
March 09, 2020 - Dubai, UAE: A good sheet mask must have two essential elements – give your skin the natural glow it deserves while you Netflix & chill and be as kind to the planet as possible. Say HELLO to The Face Shop's latest drop – Dearpacker sheet mask that has got it all.
Boost your skincare routine whenever and wherever with the Dearpacker mask sheet combo giving you that simple yet effective hack of instant pampering. The sheet masks known to come in their pretty and colorful packets are now here to bring you an at-home facial without breaking the bank.
The Dearpacker's masksheet combo contains eight curated masks for your weekly pampering plus one additional each with its own unique benefit catering to your many skincare needs. The sheet masks are made of 100% pure cotton drenched in all-natural essences that are free from toxic elements of parabens, mineral oil, talc, triclosan, and triethanolamine.
• DearPacker Home Remedy Mask - Turmeric + Yogurt (20gm): This special sheet mask contains all the natural healers you need for glowing skin such as turmeric and yogurt extracts. This helps towards promoting better skin circulation making it more clear and healthier!
• DearPacker Home Remedy Mask - Sandalwood + Rosewater (20gm): Containing sandalwood tree extract antiseptic properties, this face mask prevents skin from getting infected and forming acne. Vitamin C from rosewater extracts smoothen skin texture and increase skin vitality.
• DearPacker Home Remedy Mask - Green Tea + Jasmine Flower (20gm): The well-known green tea extracts in the sheet mask contains vitamins found in lemon, that helps skin get brighter, while jasmin extracts control sebum.
• DearPacker Home Remedy Mask - Fenugreek + Cucumber (20gm): This face mask provides ultimate moisture and nourishment to skin. The Fenugreek seeds contain rich vitamin C leading to brightened, lightened skin while cucumber extracts soothe and calm the skin.
• DearPacker Home Remedy Mask - Egg White + Lemon (20gm): Egg white and lemon extracts in this sheet mask smooth skin tone along with skin brightening properties. Lemon extracts also controls excessive sebum and tightens up pores giving you clearer looking, smoother skin.
• DearPacker Home Remedy Mask - Charcoal (20gm): Charcoal sheet masks are the perfect solution to get clearer looking skin. This black sheet mask with charcoal extracts has excellent purification effects on skin. It cleanses the skin and draws impurities out of the pores and tightens them.
• DearPacker Home Remedy Mask - Coconut (20gm): This sheet mask prevents skin from drooping and forming wrinkles. Its natural antibiotic properties also act as protection from bacteria giving you younger looking, nourished skin.
To prep for the instant glow that Dearpacker's masksheet brings, begin by washing the face. Ensure to cleanse the skin to get rid of impurities and soak in all the nourishing essentials. It is also important to apply a lightweight toner to help neutralize the skin to receive the boost of nutrients the sheet mask will provide.
The Dearpacker sheetmasks are easy to use and can be your go-to at any place, whether you're travelling, catching a quick ride and even at the comfort of your own home. So next time when you are running late for your daily skincare routine, you know what to look up for!
The Dearpacker's masksheet combo which includes 8 sheetmasks retails at AED49 and is now available to shop across all The Face Shop Stores in UAE.