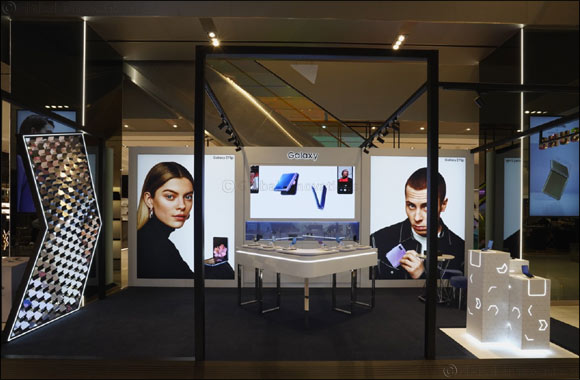 Style in the hands of the beholder
A perfect blend of mobile innovation and stylistic elements, Galaxy Z Flip enables a new age of lifestyle experiences
Dubai, UAE 9 March 2020: Samsung Gulf Electronics and world renowned fashion retailer, Harvey Nichols - Dubai, join forces to deliver an authentic, new age style statement with this year's most coveted groundbreaking foldable smartphone, the Galaxy Z Flip. The Galaxy Z Flip's unique form factor is compact and enhanced with an impossible-to-ignore color shifting exterior in stunning hues, to put the spotlight on you for any occasion.
The partnership offers digitally-savvy, experience driven clients in the region a seamless blend of style, form and pioneering mobile technology with the Galaxy Z Flip, as a natural extension of their personal styles.
Osman Albora, Head of Mobile Division at Samsung Gulf Electronics said: "Fashion, like technology is a personal statement that magnifies individualitiy and persona. This partnership is a reflection of the inevitable convergence of technology and fashion, to break new grounds in self expression. At the cusp of Samsung's Age of Experience, this partnership will provide consumers with an unprecedented blend of style and seamless mobile experiences. We are not exaggerating, when we say we think that Galaxy Z Flip represents the new decade of fashion and style as a lifestyle choice."
From its stylish design to its flexible camera experience, Galaxy Z Flip opens up a new decade of foldable mobile innovation and sartorial experiences.
Reimagining how consumers use cutting-edge technology as a way to express themselves, Samsung is offering a luxurious bag to every customer who purchases a Galaxy Z Flip and a Samsung Accessory or a Wearable at Harvey Nichols - Dubai in Mall of the Emirates for a limited time only.