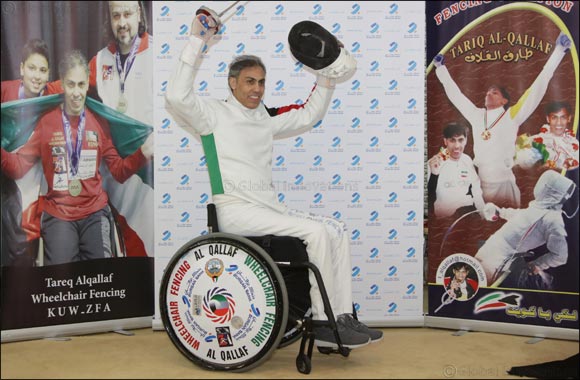 Kuwait – 7 March 2020: As part of its continuous support to empowering youth and local athletes, Burgan Bank announced its latest sponsorship of Wheelchair Fencing Titleholder, Tareq Al-Qallaf, for the sixth consecutive year. Established as a role model among the aspiring special needs segement and young Kuwaiti athletes, Tareq Al-Qallaf will once again be representing Kuwait in the global championships that will be running throughout the year 2020.
The homegrown World Champion Tareq Al-Qallaf will kick off his global tour in several states preceded by training camps in each starting with Colorado for the Pennsylvania championship in February, followed by a week's training for the Detroit championship in March, and the Philadelphia championship in May respectively, after which he will prepare for the 'Kuwait Challenge' in November.
Burgan Bank will maintain its long-term partnership with the national athlete and continue to contribute to the champion's successful road ahead as he raises the Kuwaiti flag high on prestigious international platforms. Driven by the belief that sports plays an important part in improving the overall quality of life in the community, the sponsorship falls under Burgan Bank's CSR strategy, which places fitness and healthy living at its core.

Falling in line with its community program, 'ENGAGE' – Together to be the change, Burgan Bank sheds light on important aspects affecting every segment of the society by promoting social welfare through educational, cultural, social and health initiatives. Burgan Bank's approach to 'ENGAGE' begins with a vital principle that as a Kuwaiti financial institution, its conduct and policies should be aligned with the needs and interests of the Kuwaiti society.