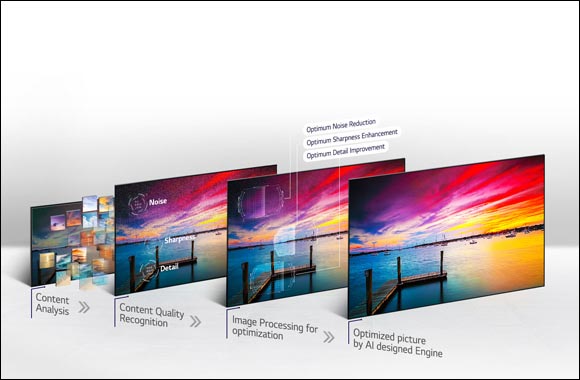 DUBAI, March 5, 2020 — Artificial Intelligence is significantly impacting industries, including film and television. Using machine learning methodologies to recognize and optimize patterns of customer usage and preferences enables a more enhanced user and viewing experience.
As a leading proponent of consumer-focused AI technology, LG has continued to take a leadership role in advocating the beneficial role of AI in consumers' lives. LG's range of televisions incorporates LG ThinQ, the company's AI brand, to deliver convenience at a whole new level by learning viewing habits and patterns and proceeding to make recommendations about movies, programs, or music tailored to the user. Using the intuitive Home Dashboard, it also acts as a hub to access connected smart devices remotely from one big screen and create unique daily routines.
With the ability to act on what the consumer is saying, LG AI TVs can use natural language processing to recognize spoken words. In the Middle East, LG introduced the first Arabic voice service support in its 2019 AI-enabled televisions. The conversational voice recognition makes it easier than ever to source answers, simply by speaking and without any additional hardware requirements. By understanding context, the TVs allow for more complex requests, meaning users do not have to make a series of repetitive commands to get the desired results.
At the heart of the latest 8K and 4K LG OLED and NanoCell TVs are a number of advanced core technologies, most notably the α (Alpha) 9 Gen 2 AI Processor. This advanced processor leverages upgraded processing power and artificial intelligence deep learning algorithms to enable viewers to enjoy upgraded AI picture, AI sound and AI brightness. It allows for optimization of the images by recognizing source quality and implementing the best algorithm to display a stunningly real image. The processor also analyzes ambient conditions to achieve the optimal level of screen brightness.
The α9 Gen 2 also fine-tunes audio according to content type, making movie and TV dialogue easier to understand and delivering crisp, clear vocals in songs. While the AI can adjust audio settings to ideal levels based on the environment, the viewers can also make manual adjustments.
These televisions also support the full palette of HDR, including Dolby Vision, which transforms the home into an entertainment powerhouse with cinematic experience along with realistic, immersive audio.