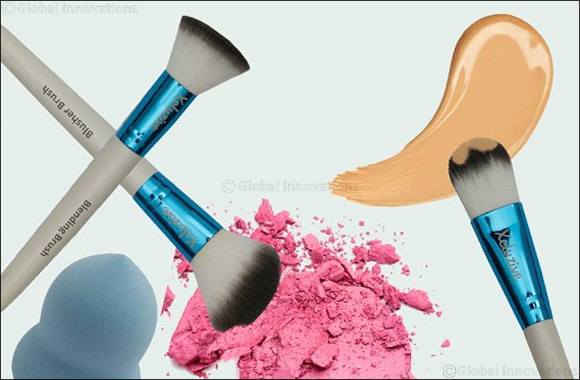 Dubai, United Arab Emirates, March 05, 2020: While it's amazing when family and friends treat you to something special on your birthday, what about the other 364 days of the year? Lucky for us, Xcluzive is here to give you all the pampering you need. From hair and makeup accessories, to nailcare and bath essentials, Xcluzive has you covered from head to toe!

Makeup Accessories

No need to look further for your beauty must-haves! Xcluzive is your go-to for all things makeup. The brushes and sponges help apply makeup in the most flawless and natural way. You never have to use your fingers to apply your foundation ever again or blend those concealers - achieve that concentrated application and extremely blended finish with Xcluzive. Their eyelash curler will also surely help you curl those lashes up and away amplifying the eyes like never before. It has the perfect curved eyepiece that comfortably fits any eye shape with a rubber pad that prevents pinching and large handles that grip smoothly helping you even the pressure. Xcluzive also offers cosmetic pencil sharpener, eyebrow razors, lash groomer, and tweezers – all those essentials that keep you looking flawless all day long!

Nailcare

Keeping your nails healthy and clean is one of the easiest ways to give yourself that much needed glow up. No time to head to the salon is not good enough reason to let your nails take a beating, Xcluzive is here to keep your nail game in check all day, every day. The Xcluzive Finger Nail Clippers and Strong Toe Nail Clippers will help you keep those nails in control when you notice that it is time to trim. They designed with special curved edges to ensure maximum precision and safety. They also have the Sapphire File with Plastic Handle and the Banana File that are safe and gentle for your nails that can shape your nails oval or square or how you want them to be. The Maxi Nail Buffer is perfect for the women on-the-go with its 4-way nail buffing block: You begin by filing your pretty nails the shape you desire, then you smooth the nail edges to even out the surface, after that buff the nail surface to even out the ridges, and lastly polish the nail surface for natural shine! Xcluzive nailcare range also includes Nail Polish Remover, Cuticle Scissors and Cuticle Pusher.

Hair Accessories

Whether you've recently indulged in a deep conditioning treatment or a premium hydrating shampoo range, a good hairbrush and comb differentiate good hair from great hair. Xcluzive offers a wide range of hairbrushes from paddle, detangling, radial, vent and even travel brushes. Xcluzive brushes are designed to help reduce frizz while maintaining natural volume. They also offer wide tooth combs and pintail combs that suit every kind of hair, designed for everyday use and to keep those manes in place at all times. Xcluzive hair accessories also includes Velcro and Bendy rollers, hair claws and hair grips, and hair bands.

Bath Accessories

With the best quality and durability, Xcluzive offers the bath accessories you need at a very affordable price. Their Bath Brushes come with natural bristles made from quality natural materials. They also have Loofahs that even come with handles or as gloves, perfect for exfoliating you skin leaving it feeling silky smooth. The Xcluzive Shower Cap comes in a large size fitting any hairstyle with its comfortable elastic band.

Xcluzive products are available across all leading hypermarkets, supermarkets and ecommerce platform.