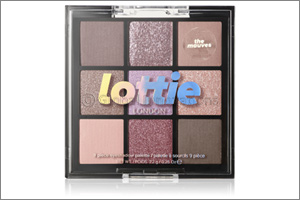 Dubai, United Arab Emirates, March 04, 2020: At the end of 2019, we all witnessed the rise of experimental and impactful make-up looks on the runways and social media - thanks to hit television shows such as Euphoria! You might be wondering, where does this leave us for 2020 in terms of make-up trends and the answer is that exaggerated, colourful and fun make-up looks are not going anywhere in 2020 and will continue to evolve throughout the new decade.
So, if you're looking to keep up with all the daring make-up trends and could use some new additions in your make-up stash to enhance your day to day looks, then look no further than Lottie London! It's the brand for those who are always looking for the latest in beauty innovation to enhance individuality and creativity, whilst remaining on a budget. Better still, Lottie London is a 100% cruelty free brand, with an aim to become 100% vegan in 2020.
Here's some top Lottie London products you can experiment with in SS20:
Lottie Eye Foils (AED 35)
These iridescent liquid eye shadows will take your eye make-up game to the next level, as they glide on the lids smoothly giving a foil-like glittery effect. The eye foils can be worn on their own or as eye toppers to add a pop of glitter to the centre of the eye lids. The eye foils come in various types of finishes: shimmer, glitter and holographic.
Lottie Eyeshadow Palettes (AED 35)
Mix and match ultra-metallics, smooth sparkling shimmers and creamy mattes with Lottie London's Eyeshadow Palettes. Packed with 9 shades designed for every occasion, these compact palettes are perfect for on-the-go glam! This palette comes in 3 options: The Rose Gold, The Mauves and The Rusts.

Lottie Lip Foils (AED 39)
These iridescent and metallic lip foils can be worn as lip toppers over any lipstick and will instantly transform your make-up looks. The lip foils have a sheer finish and come in a variety of colours from pinks and golds to quirky greens and blues.

Power Foil (AED 45)
These versatile high coverage metallic eyeshadows are designed to give you an intense foil finish in just on swipe. Blend the Powerfoil out for an everyday look, or pack-it-on for a striking TT glowy-metallic finish.
Gloss'd Supercharged Gloss Oil (AED 35)
This is a unique hybrid between a lip-gloss and lip oil to pump your pout and give you a juicy look. Packed with moisturising ingredients, this lip saviour hydrates and nourishes whilst adding a light wash of colour for fuller-looking lips, delivering explosive shine without the stickiness. The gloss oil comes in 8 different shades to go with all your party makeup looks.