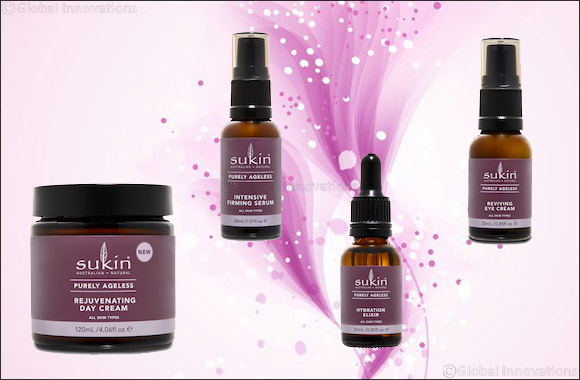 An answer to every mother's skincare needs!

Dubai, United Arab Emirates, March 02, 2020: There is no substitute for natural ingredients that can give your skin the care that it needs. Australia's No. 1 natural skincare brand, Sukin, is exceptional in that it offers a range of products for every skincare need, and is both effective and affordable. The Sukin Purely Ageless range is one such range that delivers superior results.
With Mother's Day just around the corner, this collection makes for the perfect beauty gift for mothers who deserve only the most natural and best that skincare has to offer.
Since the brand's launch in 2007, Sukin have been steadfast in their commitment to creating natural skincare products, defined by a clear checklist of synthetic ingredients that will never be used in any Sukin product based on their potential harm to people, the environment or animals.
NATURALLY CREATED WITH:
NO PETROLATUM / MINERAL OILS
NO SYNTHETIC FRAGRANCES
NO ANIMAL DERIVATIVES
NO ARTIFICIAL COLOURS
NO HARSH DETERGENTS
NO PROPYLENE GLYCOL
NO MEA / DEA / TEA
NO PHTHALATES
NO TRICLOSAN
NO SULPHATES
NO PARABENS
NO SILICONES

The Sukin Purely Ageless represents products that are natural, environmentally conscious, accessible; and products that deliver results. The products harness powerful naturally active ingredients such as Pure Ribose, Paracress Extract, Crambe Oil, White Hibiscus & Baobab, which help deliver impressive results. Pure Ribose reduces the appearance of wrinkles by up to 78% and smoothes the skin for a visible difference after just 14 days, while Paracress extract reduces the surface of wrinkles by up to 50%. Crambe Oil increases skin hydration rate by 60% over 5 days, and the White Hibiscus & Baobab improves skin firmness and plumpness.

Here are some essential picks from the Purely Ageless range that will assist with your skin health:

Intensive Firming Serum (AED 96)

This light serum is rich in natural actives and will gently firm, refine and leave skin feeling smooth. Pure Ribose, Acacia Gum and Rosehip Oil work to improve skin elasticity and reduce the signs of ageing after 14 days, with Cocoa Butter to lock in moisture and help protect the skin from environmental conditions.
Hydration Elixir (AED 96)

A natural elixir, rich in Crambe Oil, Vitamins A & E and Paracress Extract that will reduce the early signs of ageing, improve the natural elasticity of the skin and deliver immediate hydration to tired skin. Other key ingredients include Jojoba to lock away moisture and Sweet Almond Oil to replenish moisture.
Rejuvenating Day Cream (AED 89)

The Rejuvenating Day Cream is infused with White Hibiscus and Baobab to naturally plump, firm and hydrate skin, with Pure Ribose working to visibly reduce the appearance of the first signs of ageing, while Cocoa Butter and Goji Berry, rich in Vitamins E & B soften and soothe, leaving skin smoother and more tensile after just 14 days.
Reviving Eye Cream (AED 78)

The reviving eye cream offers hydration and smoothing to the sensitive area around the eyes. Green Coffee works to reduce the appearance of dark circles while Pure Ribose & Sunflower Oil work to fight fine lines and early signs of ageing, with a noticeable difference in 14 days.

Sukin is available exclusively at LIFE Pharmacy retail outlets throughout the UAE, in Holland & Barrett Saudi Arabia and soon in Boutiqaat in Kuwait. Sukin is also available in Lebanon at key pharmacies including Summerland Pharmacy, Arax Pharmacy and Express Pharmacy.