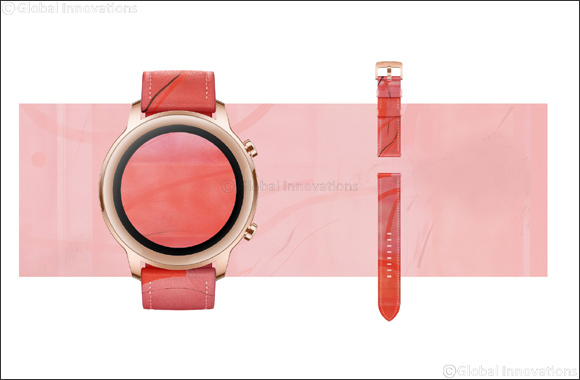 Dubai, United Arab Emirates, March 02, 2020: Supported by its successful and visionary 1+8+N IoT strategy, HONOR has recorded a whopping 1333% YoY increase in shipments of wearables over the first three quarters in 2019. Riding on the great success of a series of wearable products, HONOR officially launches the HONOR EasyFit Series and Artist Collection Series which are the new collections infusing with not only design ideas but also a brand new upgrade of healthiness tracking functions.
A. HONOR EASYFIT SERIES– MAKE YOUR PERSONALITY MORE PRONOUNCED
HONOR is committed to diversifying the product range to release more new ideas to the industry. The Easy Fit Series is the brand's another attempt to explore more fun in technological innovation and offer a stylish experience to fans around the world in daily life. Further stepping into the art territory, the Artist Collection Series is the latest designs for the HONOR MagicWatch 2 bring together elements of illustration, graphic design, photography, sculpture and calligraphy with HONOR's design philosophy and vision.
Eight new colors are available for HONOR MagicWatch 2
The HONOR EasyFit Series exclusively for MagicWatch 2 will be available in two sizes - 46mm and 42mm. With eight new colors available and different straps to choose from including fluoroelastomer (an eco-friendly hypoallergenic material) and leather (high quality Italian leather), you can customize your watch to mix and match based on your specific activities and different outfits for any occasion. There are six colors available for the fluoroelastomer, including Daylight Yellow, Olive Green, Reef Blue, Sky Blue, Lilac Purple, and Camellia Pink. And you can also choose the Wonderland Green and Wizard Purple if you prefer the leather strap.
The HONOR EasyFit Series watch strap will be available in the global market starting from April.
B. SPO2 TRACKER – NEW HEALTHINESS TRACKING FUNCTIONS ENABLE YOU TO KNOW YOURSELF BETTER
Beyond that exciting designs, the HONOR MagicWatch 2 offers iterative improvements for healthiness tracking like the SpO2 monitoring for you to have a great overview of your overall health.
SpO2 Monitor (Pulse Oxygen Saturation)
SpO2 stands for peripheral capillary oxygen saturation, an estimate of the amount of oxygen in the blood. And SpO2 is a crucial indicator of the oxygen supply to cells and tissues. What's worth mentioning is that HONOR MagicWatch 2 is the only affordable watch product to have the SpO2 Monitor, which allows users to track oxygen saturation levels in the bloodstream and asses how your body is adapting during workouts or at high altitudes . It's your healthiness companion that can tell you whether you need to reduce the exercise or seek medical attention.
Blood oxygenation, which increases during workouts or other activities, is necessary to supply the energy your muscles need to function. The higher the oxygen content in the blood, the better the metabolism of the human being. An oxygen saturation percentage between 90% and 100% is considered to be a normal reading. If you see a score below 89%, it could be a sign of poor blood oxygenation which may cause fatigue, drowsiness, listlessness, dizziness, rapid heartbeat, decreased memory and other issues. Then you need to reduce your exercises and it could be a time to further investigate and find out whether it is related to an undetected health issue.
HONOR MagicWatch 2 can offer instance on-screen feedback of your blood oxygen percentage, coupled with data on your altitude, which is particularly useful for anyone that's into hiking, alpine sports, and other big expeditions to keep tracking your health status.