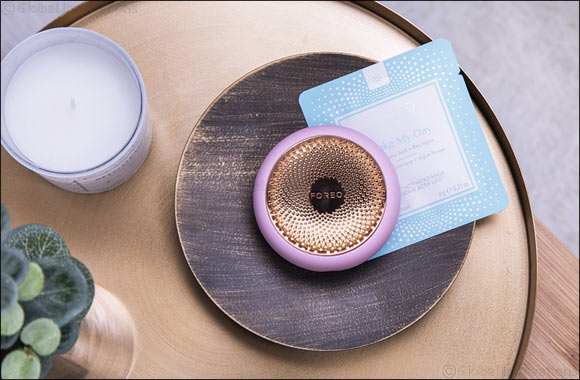 Start your day with the UFO from FOREO
Dubai, United Arab Emirates, February 18, 2020: Start everyday feeling fresh as a daisy with FOREO's 'Make My Day UFO Activated Mask', the ultimate morning pick-me-up. FOREO, the leading Swedish beauty tech brand, have created the ostentatious miracle that is a facial every morning in the comfort of your own home.
The FOREO UFO is a transcendent smart mask treatment which combines advanced dermal technologies with exclusive Korean mask formulas, developed by the same beauty experts who pioneered the original mask concept. With expert routines, created for specific skin care benefits, the results will leave your skin ready for anything.
How does it work? Prepare your face to start the day with the ultimate morning pick-me-up. The Make My Day UFO Activated Mask is infused with hyaluronic acid for the ultimate hydration and red algae, which protects your skin from environmental pollutants, energising your skin for a refreshed complexion and healthy glow. Your skin goes through a lot on a daily basis here in the region including pollution, dust, sand and sun. You name it and your skin combats it! So why not help it out in any way you can. Until now, masking in the morning wasn't feasible but with the help of UFO's 90 second quick fix, your skin will be ready for anything!
The UFO is a smart mask that:
● Instantly infuses moisture into the skin, giving it the perfect amount of hydration.
● Energizes the skin for a refreshed complexion and healthy glow.
● Protects skin from harmful free radicals with an anti-pollution barrier.
Dr. Lana Kashlan, an American Board of Dermatology certified, consultant dermatologist who lives and works in Dubai has recommended the UFO Activated Masks to her clients; "I love the UFO Smart Mask Device because it is so clean and quick and easy to use. But even more so, the combination of heat to prime the skin and the LED light to reduce inflammation and calm the skin just really takes at home skincare to another level. Not only is it relaxing, but you're doing something that truly benefits your skin. We use LED light in the office with our facials to help calm the skin and with the UFO device you're getting a similar treatment at home. The UFO device is one that I would definitely recommend to all my patients because not only is it therapeutic, but it also is efficient and so relaxing to use. It really makes skincare feel like a self-care ritual without being too time consuming."
The FOREO UFO hyper-infusion technology uses your skins natural reactions to heat and cold, as well as FOREO's signature T-sonic pulsations to ensure you get the most out of every morning mask treatment. So how do you get started? Simply download the FOREO app, scan the barcode on your chosen treatment and FOREO will guide you through the rest, from start to finish.
The UFO will begin by gently warming your face in Thermo-Therapy mode. Soothing, relaxing and revitalizing both your mind and body, the heat infuses active mask ingredients into the skin, making them more effective in less time. After 30 seconds, T-Sonic pulsations are added to the heat to facilitate absorption of the hydrating serum. The process is then completed with a green LED light which gives the skin an instant boost of radiance for an all-day glow. With the touch of a button your skin will be left reinvigorated and revived.
The UFO isn't only a morning perk. With seven other Korean mask formulas to choose from, including Matte Maniac, Shimmer Freak, Youth Junkie and Call It a Night, there is also the H2Overdose mask.
Infused with hyaluronic acid, the H2Overdose ultra hydrating facemask will soothe your thirsty skin of its quench, drenching it in moisture. With the sun beating down on your skin daily it will be thanking you as hydrating skin is healthy skin!
An indulgent experience that is safe and effective for all skin types, the UFO is made with ultra-hygienic silicone that's soft to touch. USB rechargeable, lightweight and portable, the UFO is a perfect little companion to take anywhere with you, even on vacation!