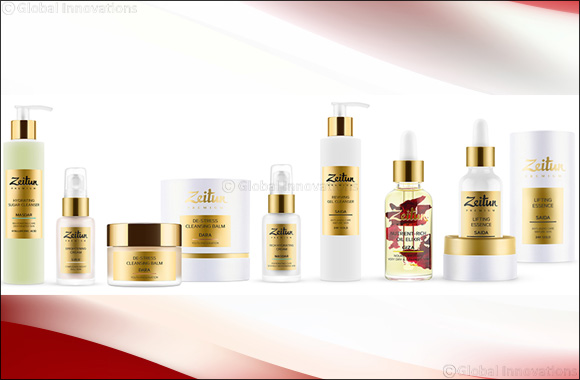 ** Indulge in Zeitun Premium Collection and find the ritual that compliments your skin type **


Dubai, United Arab Emirates, February 18, 2020: After so many years creating beautiful and results driven skin and body care products, Zeitun have blended the finest natural ingredients and most advanced technologies to create their most luxurious range to date – The Zeitun Premium Face Care Collection. Based on traditional rituals of ancient Arabia, coupled with ingredients from Jordan, India, Morocco and Europe, the range offers complete indulgence to enrich your skin, and also takes you on a journey of well-being and balance.

With products suitable for every skin type, age and concern, the experts at Zeitun have formulated a luxurious range capable of reviving and beautifying your skin like never before.

The collection is available in different ranges, each developed by Zeitun's cosmetologists to tackle your specific skin concerns:

Zeitun Premium MASDAR – Rehydrating Care
Designed to tackle severely dehydrated skin, the MASDAR range works on all complexion types, including combination and oily, providing up to 72 hours of deep hydration. The MASDAR products contain Hyaluronic acid, precious botanicals and extracts to reach the very deepest layers of skin, leaving your skin deeply hydrated, looking healthy and luminous.

MASDAR Hydrating Sugar Cleanser with Hyaluronic Acid – AED 68.45
The first step in reducing dryness is removing daily dirt and excess dead skin. Zeitun uses Cane Sugar, Patented Plant Carbohydrates and Hyaluronic Acid to ensure instant hydration leaving you fresh-faced and ready for the next step.

MASDAR Rich Moisturizing Cream – AED 185
This rich and luxurious cream with Hyaluronic Acid is formulated to penetrate to the deepest layer of skin to relieve you from the symptoms of dehydration, tightness, irritation and redness. Providing instant comfort and all-day hydration.

Zeitun Premium LULU – Complexion Boost
The LULU range is designed to boost the natural radiance of your skin, promoting even skin texture and fighting dullness. The Complexion Boost series uses a combination of natural AHA-acids, Vitamin C and other precious ingredients to gently peel away unwanted dry skin cells, leaving you with a bright, radiant complexion.

LULU Brightening Cream for Dull Skin with Pearl Essence – AED 161.07
This brightening cream with Pearl Essence and precious oils miraculously fights signs of fatigue, unevenness and unwelcome pigmentation, offering a deep hydration and a complete skin rejuvenation.

Zeitun Premium GIZA – Nourishing Care
Created for severely dry skin types, prone to tightness, flaking and premature aging, these ultra-rich products nourish your skin with the help of Damascus Rose and the most nourishing natural oils. For those with skin in need of accelerated rejuvenation, the Premium GIZA range will break you free of discomfort through pure luxury.

GIZA Nutrient Rich Oil Elixir – AED 178.52
The GIZA Nutrient Rich Oil Elixir relieves dry patches, heals weather-beaten skin and restores the natural elasticity of the skin. With Lipid fusion, this is suitable for very dry and damaged skin types.

Zeitun Premium DARA – Youth Preservation 30+
Fight against the first signs of ageing with the DARA range, especially created for "megapolis" skin types, prone to premature ageing and early wrinkles. These Antioxidant rich products help reduce the signs of skin damage made by daily stress, pollution and UV exposure.

DARA De-Stress Melting Cleansing Balm – AED 199
Get rid of makeup and natural daily grime build up with the DARA De-Stress Melting Cleansing Balm. Enriched with Jasmine and Mango, this melting buttery balm will gently break down any unwanted residue left after a long day, leaving your skin fresh and nourished.

DARA Recovery Night Mask – AED 250
This DARA Recovery Night Mask will give you a true "beauty sleep" and leave your skin looking vibrant and nourished by the morning. Nurturing the deepest layer of skin whilst you sleep, it helps tackle the early stages of fine lines and wrinkles.

Zeitun Premium SAIDA – Anti-Ageing Care 40+
The Premium SAIDA range was crafted for those with more mature skin, to defy deep wrinkles and fine lines, restore collagen production and diminish pigmentation. The deeply hydrating and nourishing ingredients will improve skin elasticity and give a youthful glow.

SAIDA Reviving Gel Cleanser – AED 77.97
The epitome of luxury, the SAIDA Reviving Gel Cleanser is infused with 24K gold, Indian Frankincense and Rose, which work in unison to fight fatigue and impurities. Suitable for mature skin, this ultra-premium product will leave your feeling skin refreshed, toned and exceptionally soft.

SAIDA Lifting Essence – AED 177.82
This exclusive anti-ageing concentrate will instantly restore firmness and resilience of mature skin. Composed of only the finest Moroccan Argan Oil, 24k Gold and Hyaluronic acid for a boost of hydration and natural elasticity, this product is the perfect tonic to the natural signs of ageing.

Zeitun Premium HUDU – Calming Care
Hypersensitive skin can be painful and irritating, and finding skincare that doesn't cause inflammation can also be a challenge. Zeitun's Premium HUDU collection offers recovering and immunomodulating ingredients to instantly soothe and calm irritated, sensitive skin.

HUDU Soothing Serum – AED 185
A delicate serum that reduces redness, deeply hydrates and the gentle formulation contains natural repairing botanicals and natural soothing ingredients to calm your skin and leave you feeling rejuvenated.

Created by a team of expert cosmetologists, Zeitun have developed a product range that works for and compliments every type of skin. Enriched with precious botanicals, the highest quality essential oils and key vitamins, the Zeitun range will not only deliver results, but will add a much needed sense of luxury to your skincare regime too.