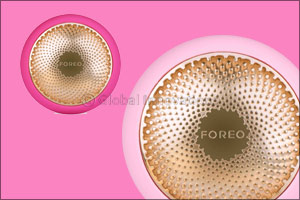 Dubai, United Arab Emirates, February 12, 2020: After closing 2019 with an almighty army of over 36 million customers worldwide, skin-tech powerhouse FOREO makes moves to dominate once again as experts at Cosmetify predict that the savvy Swedish brand will 'break the beauty stratosphere in 2020'.
The 2020 Beauty Report places FOREO at number 3 in its 'Beauty Brands on The Rise' rankings thanks to a staggering 118% increase in searches in 2019 vs 2018, leaving Instagram sensations Jeffree Star Cosmetics and Drunk Elephant in the dust with increases of only 69.25% and 64.80% respectively.
Experts at Cosmetify said: "Skincare is becoming an increasingly important part of our beauty routines, and so it should be! FOREO has combined the need for health and beauty with our love for evolving technology to provide you with the ultimate future feel-good routine. From toothbrushes to their innovative smart masks, they claim to be the future of skincare and beauty.