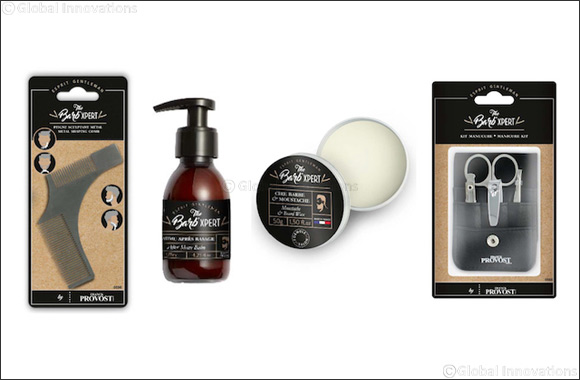 Dubai, United Arab Emirates, February 06, 2020: Grooming and maintenance was always an essential part of growing up for women. In recent years, however, men's grooming has taken the spotlight with the universe of products offered from skincare and grooming brands, targeted towards the man that wants to look his best, always.
GlamBeaute.com, the one-stop e-store for all things beauty, skincare and grooming related, has just stocked up on two new men's grooming brands: The Barb Xpert by Franck Provost and Kennedy and Co! These grooming ranges offer all the essentials and more required for that perfect, rugged appearance that every man desires. From beard tools, to nail clippers, and not to mention skincare products for men, these ranges offer what every man needs on his bathroom counter. Plus, there isn't a better time to start grooming than the month of love – get Valentine's ready with GlamBeaute.com.
The Barb Xpert's collection includes all the essentials: from the Manicure Kit (AED 49) to Nose and Ears Scissors (AED 35) to keep the exterior trimmed and looking clean. For all the men with beards, you can enjoy the amazing range of beard-focused products that this range hosts, from Body Trimmer Electrical Razor (AED 66) to the Beard Brush (AED 49), and the Wooden Beard Comb (AED 29). You can treat your skin with the Shaving Soap (AED 55), and the After Shave Balm (AED 55). And lastly, fix up your beard and hair in the Pocket Mirror (AED 18), with the Wooden Hair Comb (AED 22) and the Moustache and Beard Wax (AED 55).
Kennedy and Co. caters to the men who like to keep things classy and simple. Offering a few skincare essentials such as the Purifying Peat Facial Scrub (AED 55), the Daily Moisturizer SPF 20 (AED 55), and the Revitalizing Eye Gel (AED 59), men can achieve clear and clean skin always. Grooming products include the Hydrating Beard Oil (AED 59) and the Matte Hair Clay (AED 55), so men can maintain and style their facial hair with only the best and nourishing products.