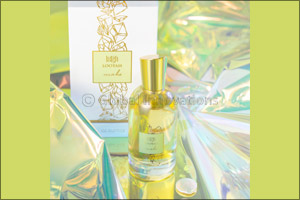 The Pearl Collection's 'Jiwan' and 'Mabe' offer inspiration to find adventure, be romantic, or simply add a touch of excitement to any aspect of life.
Dubai, United Arab Emirates, February 02, 2020: LOOTAH – the UAE's leading contemporary perfumery, offering an extensive array of enchanting perfumes, incredible incenses, the finest fragrant oils and the richest agarwood – is launching two stunning new fragrances to welcome 2020 in style and pay the perfect tribute to Emirati heritage. As the new year begins, LOOTAH honours the great grandfather's occupation of pearl trading by bringing the beautiful craft back to life and attaching it to two precious new fragrances, presented in the latest 'Pearl Collection'.
Created and crafted in the heart of the UAE, The Pearl Collection features two luxurious new fragrances, 'Jiwan' and 'Mabe' – named after pearls to highlight the emotional narrative, in tribute to the Emirati heritage of pearl diving. Pearls are sources of the greatest fascination for luxury seekers; a pearl is a symbol of power, yet a gift of love. Along the UAE's coastline, in the warm waters of the Arabian Gulf, the most precious pearls are formed. The power of perfume can be whittled down to how the human body processes smell, similar to the enchantment that pearls make you feel once you rest an eye on them; it suddenly lifts you to a world of delight and emotions.
'Jiwan' is a feminine, sweet, soft and confident fragrance for her that emboldens the wearer with the beauty of uniqueness and delight. A feminine floral-fruity gourmand fragrance, this irresistible composition starts delicate and sparkly with fresh citrus notes, yet gets warm and comforting with pink pepper. Growing out in feminine florals, it blooms out of the crowd with a creamy and fruity heart of peaches and coconuts. Meanwhile, sweet vanilla and gourmand are at the ocean bed forming the perfect pearl – 'Jiwan' – that's forever young and undoubtedly optimistic. This fragrance has fresh energy, playful florals and attractive sweet fruity scents.
'Mabe' is a sophisticated, modern, musky note with a fruity pear aspect. A scent for her, that reflects sophistication and elegance, 'Mabe' exudes freshness that flows with the rhythm of flying petals landing softly on a warm heart of Oud. Inspired by Mabe pearl, a semi-spherical and breathtakingly lovely pearl, this invigorating feminine fragrance epitomises the harmony between modern fruity notes and the warmth and authenticity of Emirati culture. Top notes of Bergamot and Helvetolide effortlessly coalesce with middle notes of Jasmine Sambac Absolute and Osmanthus to produce a formidable scent that oozes class. Base notes of Patchouli Essense, Ambrox Super and Crystal Moss perfectly complement the top and middle notes, to complete this truly exquisite fragrance.
A truly authentic Emirati brand with global appeal, LOOTAH is far more than just another perfumery; it is the vanguard of the finest fragrances – a contemporary aroma trend-setter with a scent for every moment. LOOTAH is the UAE's leading contemporary perfumery, offering an extensive array of enchanting perfumes, incredible incenses, the finest fragrant oils, and the richest agarwood.
Both 'Jiwan' and 'Mabe' are available in 100ml bottles, for AED 390 each, inclusive of VAT, across LOOTAH stores and online.