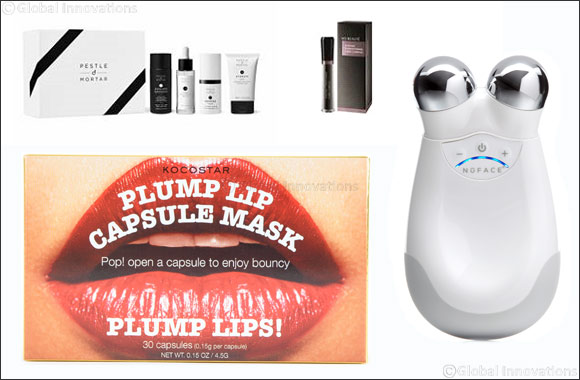 Dubai, United Arab Emirates, February 02, 2020: It's that time of year again, and if you forgot, we've got your back. It's Mother's Day! What better way to celebrate the mama bear in your life than with her very own unique Mother's Day gifts?
Our thoughtful gift guide from Beauty Solutions is your one stop shop for all those amazing mother's who have given us the gift of life. With the most trending beauty must-haves, this curated gift guide caters to all of mothers out there who deserve the gift of self-care this year.
Salt By Hendrix Rose - Quartz Face Roller (AED 215):
The Rose Quartz Face Roller loves to make you glow. It is an incredible tool to assist in enhancing the effectiveness of your beauty routine; promoting circulation and encouraging skin cell rejuvenation. Rose Quartz is the stone of unconditional love and opens the heart to all types of love, this can be a simple token of appreciation to your mother The full range is available at Faces at Mall of the Emirates, Springs Souk, Harvey Nichols and online on beautysolutions-me.com.
FlashPatch Restoring Night Eye Gels – (AED 110 for a pack of 5 masks and AED 340 for a jar):
Five minutes to restore overworked and tired eyes? It can be done! Containing a high dose of anti-aging Retinol and Peptides which work seamlessly to brighten and reduce the darkest of circles. Soothing Arnica also ensures a restful night of shut eye. Simply pop them on before bed and watch them repair in a flash.
Pestle & Mortar - Box of Stars (AED510)
If you are looking for the most perfect gift for a skincare-obsessed mother, this one is guaranteed to impress and provide plenty of great skin days for her. The full range is available at Faces at Mall of the Emirates, Springs Souk and Ibn Battuta and Tryano Abu Dhabi with prices starting from AED85.
NuFace - Trinity Facial Toning Device (AED 1,500)
Known for transforming the way patients approach skincare by delivering clinically proven, non-invasive devices for ideal skin health. This device is known for its ability to leave skin looking more youthful, radiant, healthy and contoured. NuFACE is available for purchase from Bloomingdales, Harvey Nichols, Faces Mall of the Emirates and online at www.beautysolutions-me.com - For more information, visit www.nuface.ae.
PMD - Clean Pro (AED 450)
This is a smart facial cleansing device that uses SonicGlow and ActiveWarmth technology to take your skincare routine to the next level. MD Beauty products are available for purchase from Harvey Nichols, Bloomingdales and online on boutiqaat.com and beautysolutions-me.com.

M2 Beauté - Eyezone Conditioning Care Complex (AED 245)
This Eyezone Conditioning Care Complex styles and cares for your lashes and eyebrows. The innovative, rich conditioner enhances the effect of the Eyebrow Renewing and Eyelash Activating Serum. It makes your lashes and eyebrows appear healthy and glossy, resulting in a dramatic, expressive and naturally beautiful look for your eyes. M2 BEAUTE is available from www.beautysolutions-me.com and www.ounass.ae.
Sensica - Sensimatch (AED 799)
The Sensimatch is a curated device which includes the Body Peel, Pedicure and massage tool. It allows a homogeneous body exfoliation and professional grade results in just a few minutes. For silky smooth feed the coarse pad is designed to remove harder, callused skin and can be used for up to 20 treatments. The massage tool helps stimulates blood flow and provides a personalized relaxation treatment. The products are available on amazon.ae, 6th street, golden scent and Sharaf DG.
Kocostar - Plump Capsule Masks are prices at AED 139, Jar has 30 pieces.
Kiss dry, chapped lips goodbye and make your pout pop with these hydrogel lip patches infused with botanical extracts and moisturizing agents. Available from Virgin Megastores, Faces, Lifestyle Gulf and online at Namshi.com and Beautysolutions-me.com.